Budget-stretching family days out
Looking for pocket-friendly days out that are big on value, fun and fresh-air adventure? Take a look at our tips and treat the family – walking, cycling and playing on the wildlife side. Discover history, intrigues and trails, and explore canals and castles. Create precious memories together: it doesn't cost the earth!
Free (almost*) days out
*some parking/travel costs
1. Try Rugby and be a sport
Morning
Kick off your day – or scrum down – for a sport-inspired morning of discovery. Check out the special 'He ran with it' exhibition and bicentenary celebrations at Rugby School commemorating the moment here in 1823 when William Webb Ellis picked up the ball and ran, so inventing the game. You can see his bronze statue opposite The Close then, a few steps away, view fascinating memorabilia in the Rugby Football Museum housed where the first rugby balls were manufactured. Explore the Pathway of Fame bronze plaque trail featuring golden moments and stars of the game, or book a free guided walking tour of the town. Also catch what's on at Rugby Art Gallery and Museum (free admission).
Lunch
Make the short trip, just 4 miles from Rugby, to Draycote Water, and choose your spot for a country park picnic – remember to pack some favourite snacks before you set off in the morning!
Afternoon
Refuelled and ready for more sporty adventures? If you've brought your bikes, get spinning around Draycote's 5-mile scenic reservoir circuit. Or walk the route, diving off into woodlands as you go. The 'look out' bird hide is the perfect vantage point for tracking the many water birds that flock here – find out what rare species have been seen.
Devoted rugby fans: boost your visit with a guided tour of Rugby School including The Close, the hallowed turf where the game was born (charges apply).
---
2. Waterways and wildlife bike rides
Morning
Fancy a pocket-friendly day on the wildlife side? Pack a picnic, bring your bikes and get the endorphins flowing with a cycle around Kingsbury Water Park – you've over 600 acres to spin across and 15 lakes to explore. Take it easy along flat, surfaced terrain, and keep your eyes peeled for the many birds and wildlife that have made their home here: it's a genuine naturalist's delight. Then ratchet up your pedal power along the bridleway to earn your lunch!
Lunch
Relax, replenish (what treats did you bring for lunch?) and enjoy lakeside views. Maybe get your GPS game on by finding the hidden geocaches (great fun – like an escape room but outdoors!)
If you're here on a Sunday, why not boost your visit with another kind of ride – hop on the Echills Wood miniature railway (charges apply).
Afternoon
Jump back on your bikes for a 15-minute waterway ride along the Birmingham and Fazeley Canal to Middleton Lakes RSPB Reserve. Safari so good: this mosaic of wetlands, meadows and woodland in the heart of the River Tame Valley is alive with herons, kingfishers and lapwings. Follow the four nature trails or go wild in the play meadow, building a den, bug hunting or pond dipping.
For an added fresh-air foray, tootle the short journey over to Middleton Hall for a peek around the grounds of the 950-year-old manor house, set in 42 acres of lovely North Warwickshire countryside (charges apply).
---
3. Walk, explore, play
Morning
Get your walking legs on and make the most of some great outdoors explorations. First up: share a stroll around Hartshill Hayes Country Park, through ancient hilly woodland and feasting your eyes on panoramic views over four counties. Shhh… listen out for a chorus of birdsong, and then get delving into the undergrowth with the Woodland Walk audio trail.
Lunch
Tuck into a picnic and play I-spy (you can't miss the dazzling bluebells in spring), then watch the kids let off steam running around the adventure playground. In fact there's no end to playtime as you hunt for the Hartshill Hoard geocache – clues and GPS markers on the free geocaching app will help you find where it's hidden in the park.
Afternoon
Wind down with a walk to Coventry Canal (1.7 miles away) and a meander along the towpath, passing an impressive flight of 11 locks and catching a variety of canalside sights – narrowboats, fish and birds. If the energy is still running high, let the canal towpath lead you to Atherstone (3 miles away) where echoes of Boudica hang in the air. It's near here at Mancetter where the warrior Queen held her last battle against the Romans and you can find past remains of an Iron Age hill fort at Oldbury Camp.
---
4. A storytelling saunter
Morning
Here's a 'classic' day out to fire imaginations: beginning with a turn together around the grounds of Astley Castle, following the footpath trails. Fact is every bit as intriguing as fiction with the real-life tales of three queens of England associated with the site, including Lady Jane Grey, the Nine Days' Queen. Here, too, Warwickshire's most famous daughter, author George Eliot (born Mary Anne Evans), found inspiration for Knebley Abbey in one of her richly charactered stories in Scenes of Clerical Life (1857).
Lunch
Savour a picnic you've packed with goodies, pull out your notebook, and let the landscape and evocative local heritage tickle up your creative juices – reflections, a verse, maybe the kernel of a full-blown story: who knows where your thoughts might lead?
Afternoon
Now let imaginations truly run riot, at nearby Astley Book Farm, Bedworth: home to some 75,000 second-hand and must-have reads, plus a 'hideaway' Children's Hayloft bursting with all sorts of picture books, adventure stories, funny tales, and fascinating page turners of fact and fiction. Kids are soon buried in a favourite book and there are plenty of ideas for bedtime reading later. Leave time for some yummy cake from the coffee shop, if your budget allows.
Alternatively, travel further into George Eliot's tales and the Warwickshire countryside she made famous, on the Exploring Eliot Trail. A short drive also brings you to Nuneaton Museum and Gallery in the beautiful grounds of Riversley Park, where Eliot's creative journey comes alive in the dedicated gallery, and craft activities will unlock the storyteller in everyone.
---
---
Days out for under £50** (travel costs extra)
** costs may vary depending on party size
5. Exotic butterflies, a Rainforest and Greenway
Morning
Whisk the family away on an exotic safari at Stratford-upon-Avon Butterfly Farm, the UK's largest tropical butterfly paradise. Here you can stroll through the Rainforest Flight Area where some 2,000 of the world's most spectacular butterflies freely fly amid tropical blossom, waterfalls and fish-filled pools. Observe the amazing lifecycle of a butterfly in the Discovery Zone, and learn about weird and wonderful frogs, beetles and leafcutter ants in the Minibeast Metropolis.
Lunch
Bring your own picnic or buy a sandwich and visit Stratford's Recreation Ground along the River Avon. In fine weather there's also an ice-cream van here. Sit back while the kids run around the playground (separate areas for younger and older children), or take a walk and feed the swans.
Afternoon
Bring or hire a bike and spend the afternoon whirling along The Stratford Greenway: an easygoing, hill-free route along a former railway line to Long Marston. It's 10 miles 'there and back again', with the option of refreshments in a refurbished railway carriage café.
---
6. A castle, some clues and many famous characters
Morning
Who wants to play lords and ladies at Kenilworth Castle where Elizabeth I once partied? Hide-and-seek around the historic ruins is always a hit on the funometer, and the bird-filled aviary is an attention grabber, but can you find a bear? There's a children's audio tour around the castle and Elizabethan garden, and dressing-up to try, or get stuck into the children's activity pack (grown-ups might learn some history too!).
Lunch
Have a munch on a light lunch in the Tudor Stables Tearoom (high chairs available and there's room for pushchairs), or outside in the picnic area. During summer kids can have their own lunch bags made up of a sandwich, biscuit, carton of juice and a piece of fruit.
Afternoon
It's time for a scene change and new characters as you head to Stoneleigh Abbey, where novelist Jane Austen stayed in 1806. Find out how the abbey's family intrigues, fine interiors and architecture inspired details in her stories. Other famous guests include King Charles I, Queen Victoria and Shakespeare, who is said to have taken shade under the abbey's 1000-year-old oak tree! Maybe take a minute or three for a rest in the same place.
---
7. Creature capers, canals and animal adventures
Morning
Moods can change in a moment and Hatton Adventure World has lots of animals and activities to match, across 100 acres of entertainment. Outdoors play? Hop on the funfair, jump on trampoline beds, enjoy pony rides, or try your hand at milking Bluebell the magic cow. Indoors play? Visit the Guinea Pig Village or Zoobee Family Theatre, and whiz around Superslide Mania (mums and dads can have a go too!). Check for seasonal highlights like meeting newborn farm animals and pick-your-own strawberries.
Lunch
Eateries on site include Snorty's Superslide Mania Restaurant for snacks and hot meals, and Spinning Jenny Restaurant & Bar for light bites and mouthwatering mains. If you've time, perhaps pick your favourite mix of sweets from the ginormous jars at The Sweet Shop at Hatton or go Toy Mad for traditional and contemporary fun, both at Hatton Shopping Village.
Afternoon
After the morning's excitement, 'warm down' with a walk along the Grand Union Canal, pausing to watch the locks being opened and closed for colourful boats on The Stairway to Heaven – 21 locks that lift the boats 2 miles up the Avon Valley from Warwick. There's a children's activity trail along the canal's banks, and look out for ducks, moorhens and swans.
---
8. Go 'mad' with creative ventures
Morning
Get those little grey cells whirring at MAD Museum in the centre of Stratford-upon-Avon. The UK's only permanent venue for mechanical art is packed with gizmos and beautifully crafted automata from around the world. Promoting STEM subjects (science, technology, engineering, maths) plus art and design, MAD is totally absorbing, interactive, eccentric and entertaining: from marble machines and flying mechanical birds to sand pictures and 3D faces. Press the buttons and unleash your inner inventor.
Lunch
Depending on time, whims and how many in your party are tapping into your budget: graze in an eatery in Stratford and have a leisurely wander around the town and riverside in the afternoon (don't forget tasty teatime ice-cream!). Alternatively, get the 77 / 77B bus or make the short drive to Compton Verney Art Gallery & Park and grab a bite to eat from their café before a culture-filled afternoon.
Afternoon
Stretch imaginations and legs: romping around Compton Verney's children's woodland adventure play area, labyrinth and willow tunnels; following nature trails; making discoveries with all-weather explorer backpacks. Also see what arty activities are planned for the school holidays and let those fidgety fingers get busy on something creative.
Extend the afternoon on Bus 77 or by car, passing views of Edgehill (of Civil Wars fame) into Royal Leamington Spa for a spot of shopping surrounded by elegant Regency architecture – it's as fashionable now as it was as a spa resort in the late 18th century.
---
9. Iconic cars to kiteflying
Morning
Rev up with a visit to the British Motor Museum at Gaydon, the world's largest collection of historic British cars: celebrating the past, present and future of motoring, designers, makers and drivers. Follow the Time Road to discover what's changed over the years, investigate design processes via touch screen, and try steering simulators in Under the Skin. Some of Jaguar's finest sports and racing cars are displayed, as well as stars of TV and film like gorgeously pink FAB 1 from Thunderbirds and the Land Rover Defender from James Bond movie Skyfall.
Incidentally, Aston Martin – long associated with James Bond – built limited editions of two new 007-themed models at the 'Q' division of its HQ in Gaydon, to mark the release of the latest Bond movie No Time to Die.
Lunch
Make a pitstop at Gilks' Garage Café, on the outskirts of Kineton, which is themed on the family's engineering and motor trade background dating to the 1900s. How about the Mighty Mechanic's Beefburger? Also refuel your car – there's an electric car charging point on site.
Afternoon
Stretch your legs with a hearty hike at Burton Dassett Hills Country Park, racing to the rugged hilltops for (literally) breathtaking views. It's also an exhilarating place to fly a kite, and there's an ice-cream van during weekends and school holidays.
---
10. 'Heavenly' locks to escape rooms
Morning
Begin today with a lovely towpath ramble along the Grand Union Canal to view the feat of engineering known as The Stairway to Heaven: Hatton's famous flight of 21 locks. Boats laden with coal, sugar, tea and spices once plied the waterways and have now been replaced by leisure craft – it's fascinating to see the narrowboats negotiating the locks.
Lunch
Perched above The Stairway to Heaven, the Hatton Arms pub serves tasty tummy-fillers like smashed avocado sandwiches, soups and handmade pie of the day. Also at the top of the locks, Hatton Locks Café offers delicious sandwiches, sausage rolls and homemade cakes, while you watch the world go by.
Afternoon
Take a walk across fields from the Hatton Arms to Hatton Country World where you'll find numerous family attractions (3.5miles/5.5km there and back again). Ready everyone? Fire up that team spirit as you pit your wits in the Hatton Escape Rooms: can you get away with the pirates' treasure in Mutiny, or get the evidence to nail the Outfit controlling Chicago's streets in the years of the Prohibition? The clock is ticking…
Reward yourself with a cornet of scrumptious, locally made ice-cream from the Spinning Jenny restaurant, bar & tea room, before you walk back across the fields.
Tempted to make your day out an overnight stay? See our 10 memory making places to stay with children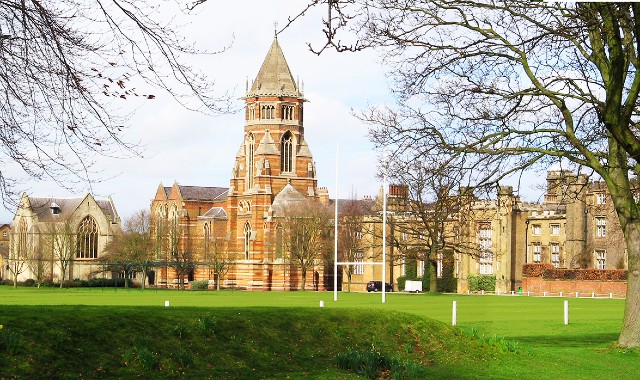 Rugby School
Copyright: G13114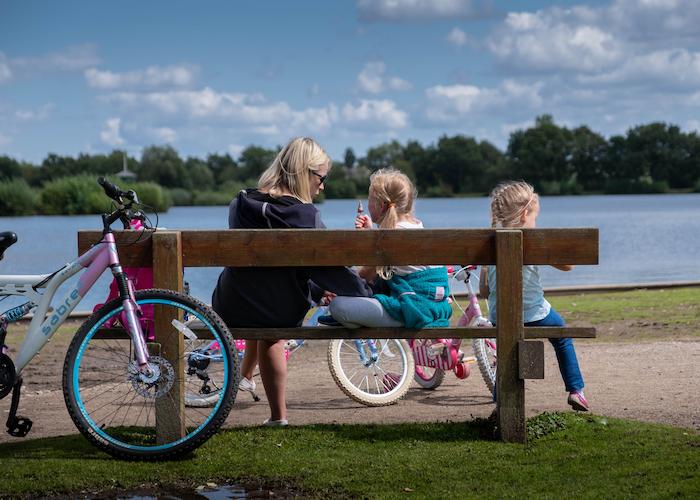 Kingsbury Water Park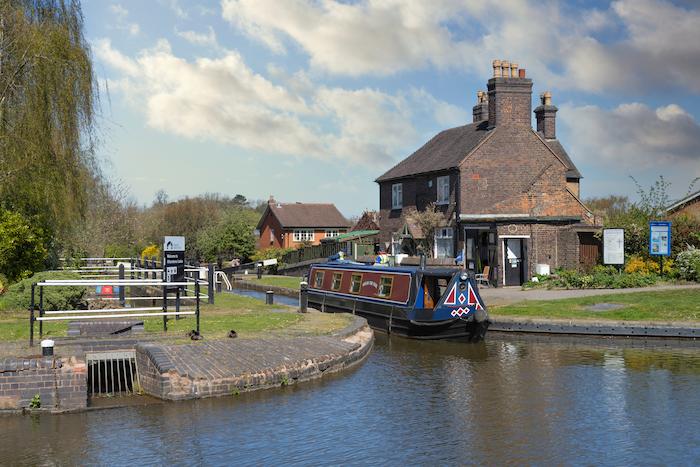 Atherstone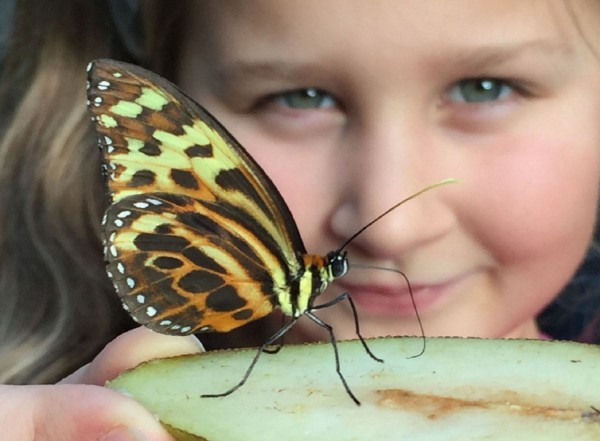 Stratford Butterfly Farm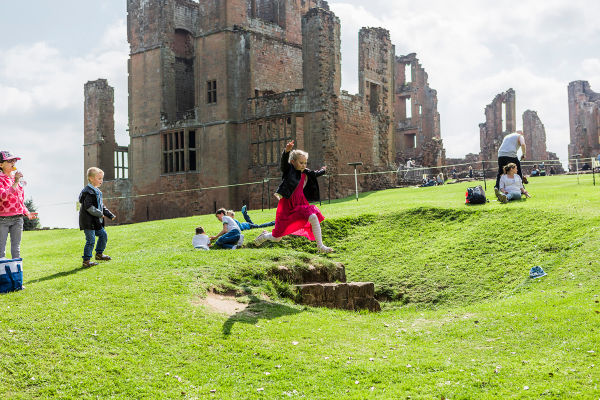 Kenilworth Castle
Copyright: English Heritage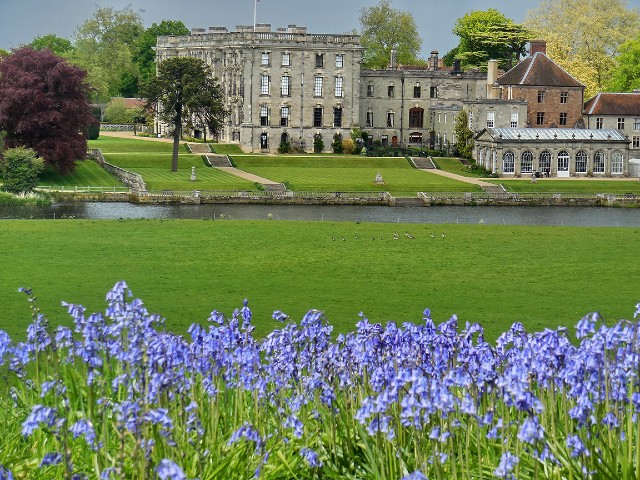 Stoneleigh Abbey
Copyright Tanya Dedyukhina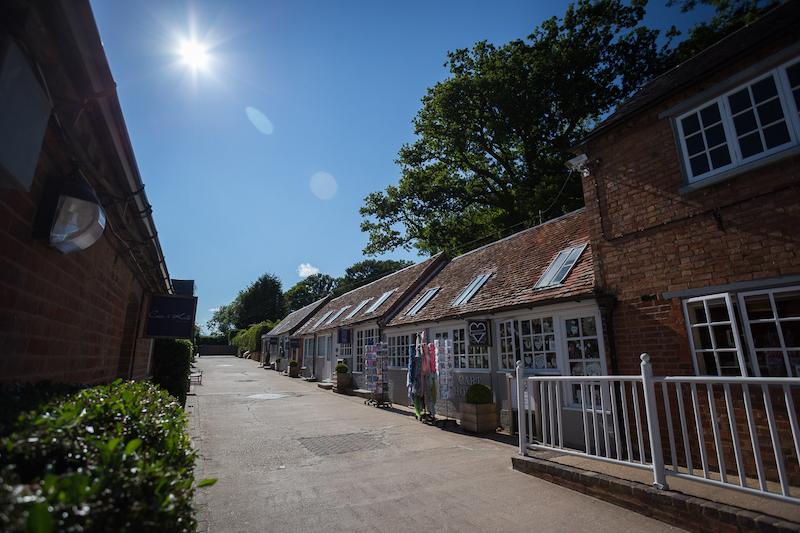 Hatton Farm Park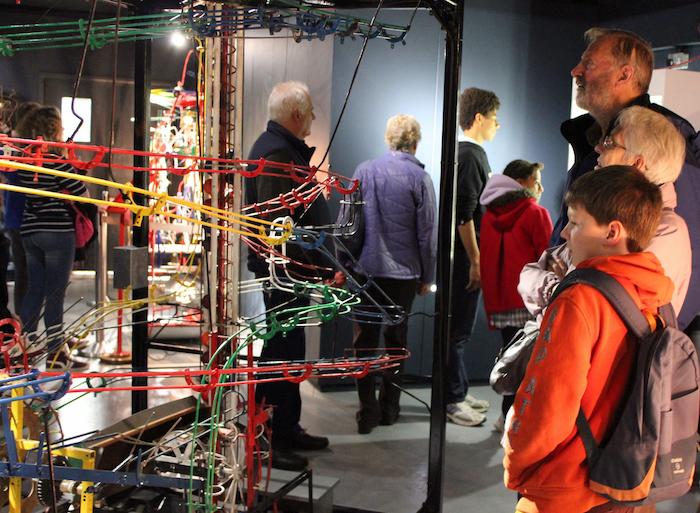 MAD Museum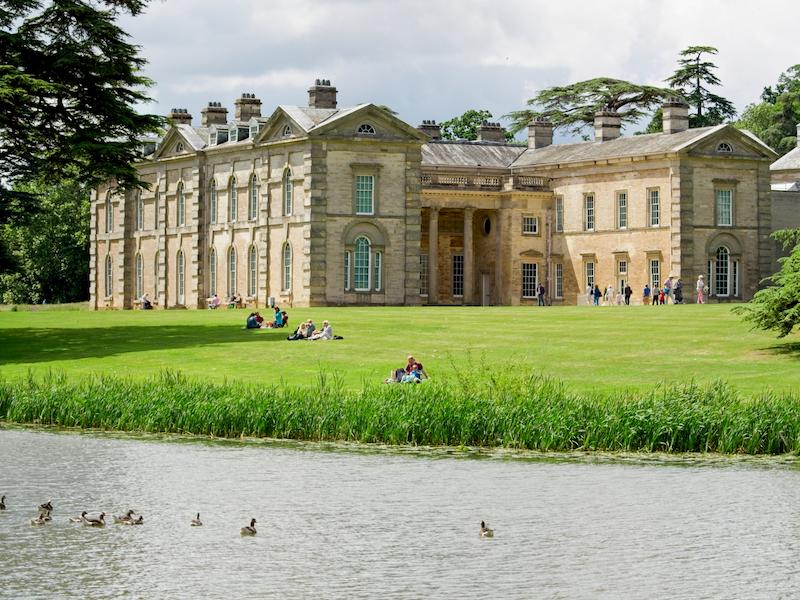 Compton Verney House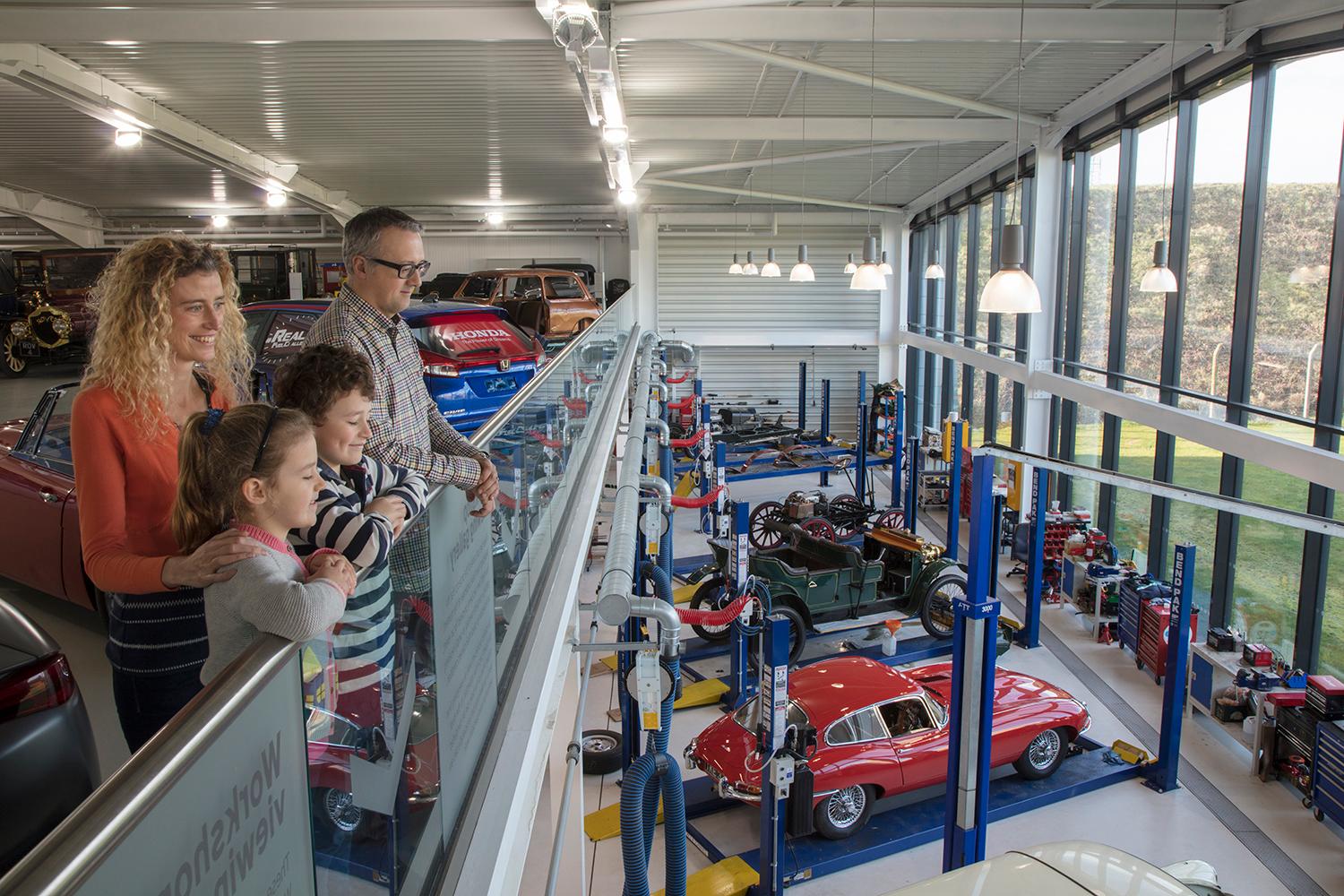 British Motor Museum's Restoration Workshop
Copyright British Motor Museum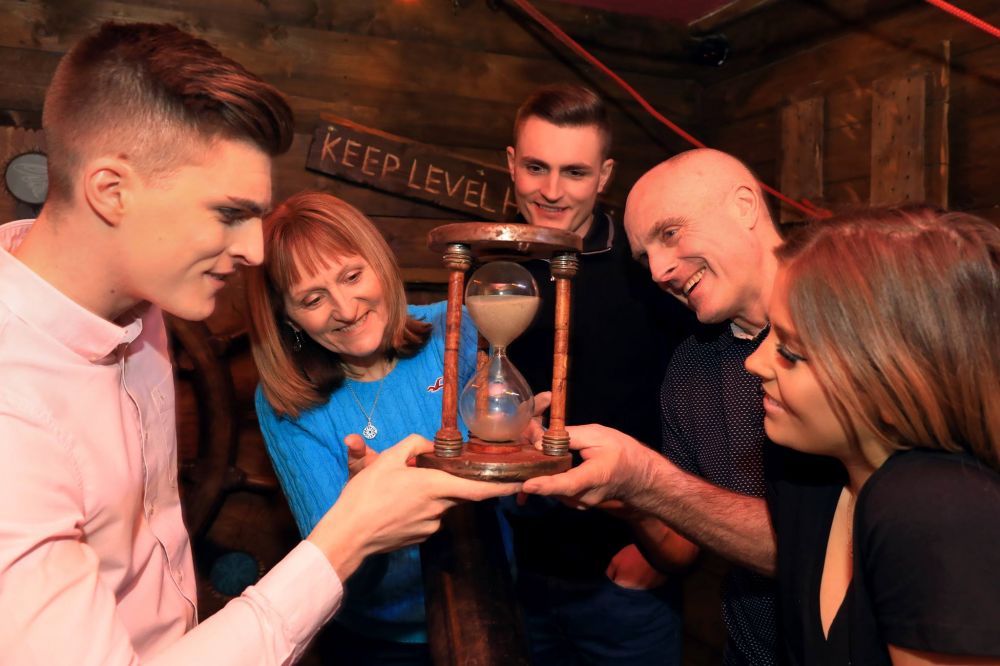 Hatton Country World Escape Rooms