South Warwickshire from Saxons to Shakespeare
"The game's afoot" on this drive, which begins amid the historic townscapes of Henley-in-Arden and finishes at Shakespeare's Birthplace in Stratford-upon-Avon. Discover Saxon secrets at Wootton Wawen, Tudor intrigues at Coughton Court and archaeological revelations at Roman Alcester. Then visit the scenes of a young Shakespeare's roistering and romancing, from village to pub and cottage.
Tracing a loop south and east: your roads twist prettily between Little Alne and Great Alne, and flower-speckled verges, hedgerows and fields stretch out around you; then, flirting with the river, the route heads on via Bidford-on-Avon to enchanting Welford-on-Avon and a finale in Stratford-upon-Avon.
NB: please check opening times with individual attractions before setting out.
1 - Henley-in-Arden
As you pass down the famous mile-long High Street of Henley-in-Arden you'll be treated to the most charming of English rural townscapes: the old Market Place, 15th-century timber-framed Guild Hall, Perpendicular-style St John the Baptist Church, and (a popular stop!) the 16th-century parlour where Henley Ice Cream serves farm-made temptations. The Museum & Heritage Centre tells the story of this lovely town.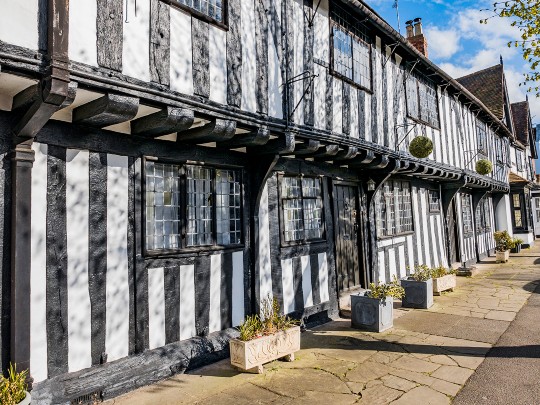 2 - The Saxon Sanctuary
St Peter's Church at Wootton Wawen dates back at least to the 900s and inside you'll find some intriguing features: from carved heads of medieval royalty to 14th/15th-century stained glass and the reclining figure of the 16th-century lord of the manor. The Saxon Sanctuary exhibition in the church explores the history of Wootton Wawen, whose curious name harks back to the Saxon lord Wagen and his 'wudutun' (woodland village).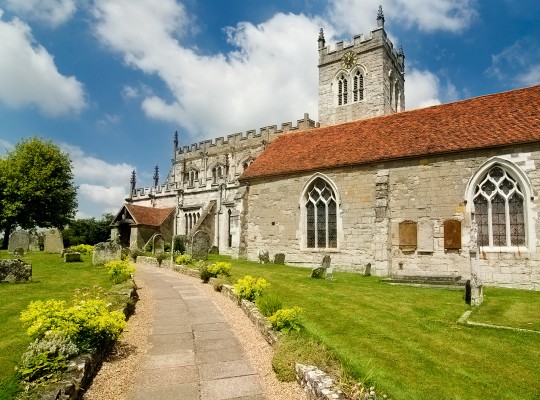 3 - Coughton Court
Discover the Tudor beauty and turbulent history of Coughton Court, home of the Throckmorton family since 1409. Among the prominent dynasties to keep the Catholic Faith alive after Henry VIII's break with Rome, the family endured much persecution – portraits, a priest hole and links to the Gunpowder Plot bring the past alive. Today the home is full of colour and Catholic treasures, and the gardens and ancient woodland radiate tranquillity.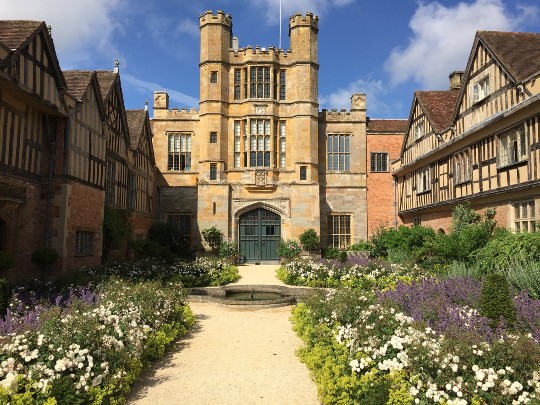 4 - Alcester
The ancient market town of Alcester clusters where the River Alne joins the River Arrow, with pubs like The Royal Oak and The Holly Bush among refreshment stops if you are peckish or thirsty. Take a look at the Samian ware and other artefacts in Roman Alcester Museum – Alcester is one of the most investigated Roman small towns in the country – and follow the heritage trail to Tudor merchants' houses and Victorian needlemakers' cottages.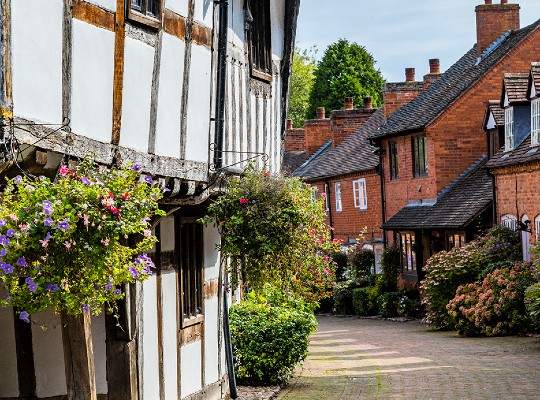 5 - Ragley Hall
The ancestral seat of the Hertford family for more than 300 years, Palladian Ragley Hall, its formal gardens and 'Capability' Brown parkland provide a stunning backdrop to a diverse calendar of public events (the hall can be viewed by pre-booked tours too). The Rose Garden is glorious in summer and a variety of contemporary sculptures add surprises.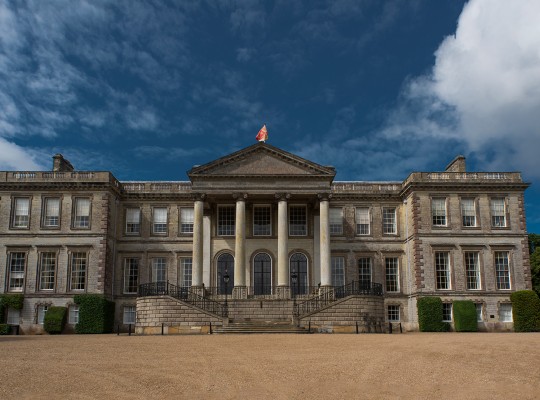 6 - Bidford-on-Avon
If you've brought a picnic, the 26-acre Big Meadow beside the river at Bidford-on-Avon offers a pleasant spot. It's alleged that William Shakespeare once lost a drinking contest in the village and declined a re-match because, as popularly recorded, he had had quite enough of "Drunken Bidford"! Find out more about Bidford's heritage, church and historic bridge on information boards in the Big Meadow.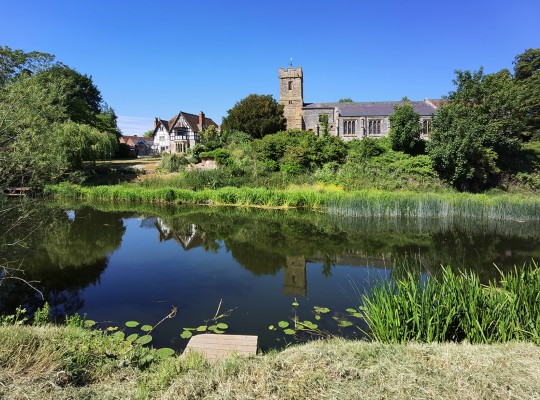 7 - Welford-on-Avon
Have your camera ready and capture the original chocolate-box image of enchanting thatched black-and-white cottages in Boat Lane at Welford-on-Avon. The village maypole might also catch your eye – the site was recorded as far back as the 14th century – and if you drop into the 17th-century Bell Inn you will be following in illustrious steps: William Shakespeare supped here with fellow scribblers Ben Jonson and Michael Drayton.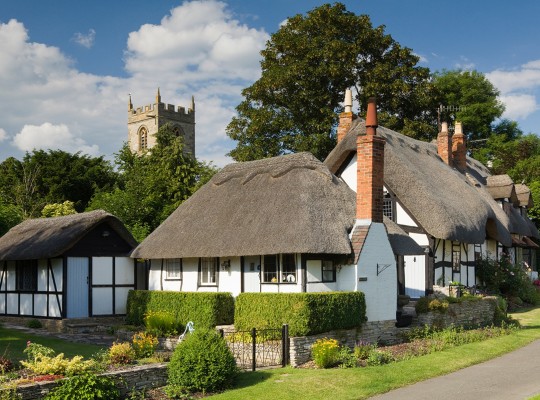 copyright Visit Britain Lee Beel
8 - Anne Hathaway's Cottage
Imagine a young William Shakespeare coming to court his bride-to-be at what is now called Anne Hathaway's Cottage in Shottery. The thatched home where Anne was born in 1556 was originally a farmhouse – the Hathaways were successful sheep farmers – but in place of the farmyard today you'll find a quintessential country cottage garden. See the iconic Hathaway Bed and hear about Tudor courtship rituals.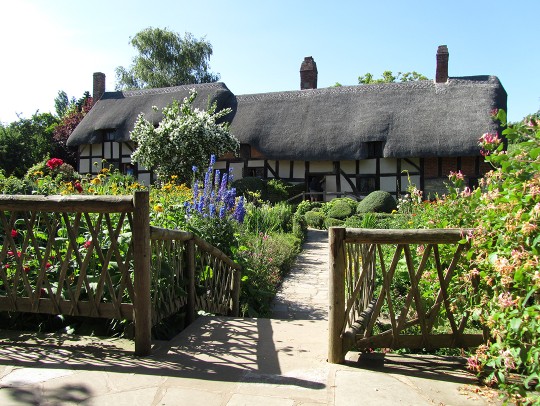 9 - Mary Arden's Farm
After a pleasant drive past hedges and open fields along The Ridgeway you come to Wilmcote where you can see the tipsily leaning black-and-white timbered house signals you've reached Mary Arden's Farm, childhood home of Shakespeare's mother. The house was built by Mary's father, Robert Arden, circa 1514, although it has been significantly altered over time.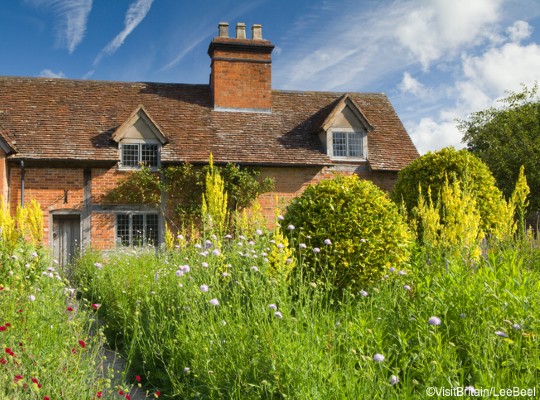 copyright Visit Britain Lee Beel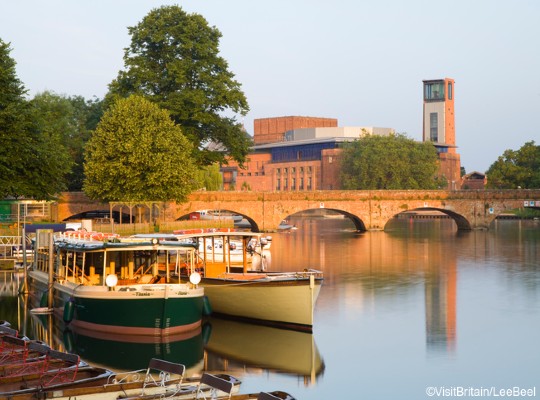 copyright Visit Britain Lee Beel