Inspiring ways to recharge and rejuvenate in rural Warwickshire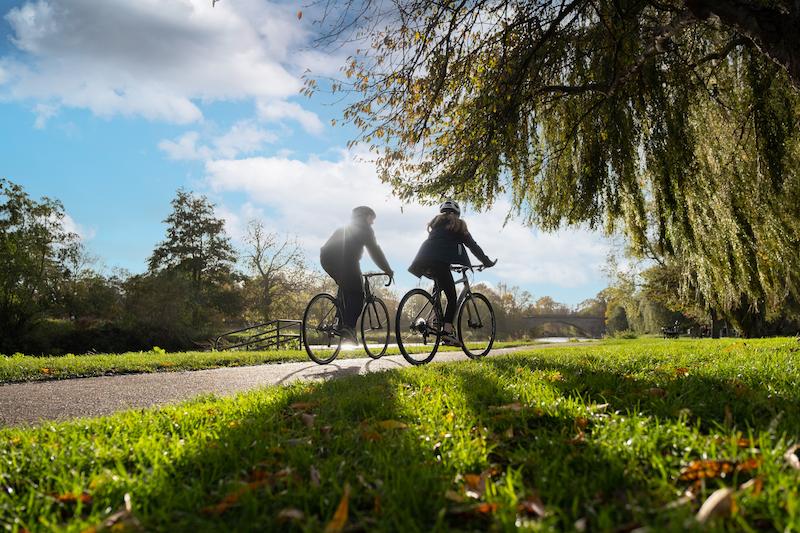 It's amazing just how refreshing time spent in the Warwickshire countryside can be: reinvigorating mind, body and spirit in hills and woodlands or beside rivers, lakes and canals.
Share playful together-time or enjoy mindful me-time, embrace new experiences and savour the afterglow.
Breathe
Put the everyday on pause, escape, and breathe – really breathe – the fresh air of our country parks. Can you feel your body begin to buzz with energy as you climb the rugged ironstone hills of Burton Dassett Hills Country Park? Green space opens out below you, wave-like slopes rise to 667ft around you, views stretch away to the Malvern and Clee hills in the distance. Simply breathtaking! Fill your lungs again, deeply. Savour the release from pent-up tensions. Even fly a kite – and any cares – away in the sky.
You can follow the c.3-mile (5km) circular tour to the hilltop beacon and other curiosities in the landscape, or roam freely across 100 acres, breezes tingling on your skin: Nature's soothing breath.
Still your thoughts
Watch the ripples as birds land on the lake; the wiggle-waggle of ducks; sunlight and clouds shimmering across the water. Blue spaces calm the mind and at Kingsbury Water Park you can stroll around 15 lakes in 600-plus acres of countryside. Bring your picnic rug, and sit and enjoy the absorbing escapades of feathered visitors. Be in the moment, as nagging thoughts fade away. How relaxing is that?
You could also take a gentle wander along the banks of the River Tame and past Curdworth Locks on the nearby Birmingham & Fazeley Canal. Let those mental cobwebs float away.
Meander mindfully
Pack a picnic and also prepare for a feast for your eyes, at Coombe Abbey Park near Coventry. Here you will find 500 acres of beautiful gardens and 'Capability Brown'-created lake, woodland and parkland, providing habitat for a huge variety of flora and fauna. Have a mindful meander along the walking routes spotting trees – sweet chestnut to Cedar of Lebanon – and wildflowers: bluebell to red campion. There are splendid views of Coombe Abbey, whose story entwines with the Gunpowder Plot.
Maybe bring your four-legged friend (there's a pooch-friendly café) and watch their tail wag with excitement – there's so much for them to snuffle and discover on a doggy dawdle.
Reboot
Feel you're in a rut? Get your walking boots on, break out, and explore somewhere different – variety is the spice of life, after all, and there are lots of trails to choose from in rural Warwickshire. How about a 2-mile (3km) circular wander around Kenilworth, strolling through the castle grounds and town? Follow footpaths around the romantic castle ruins and stunning Elizabethan Gardens; then head into Abbey Fields Park and along pretty Finham Brook, on to St Nicholas Church and medieval abbey ruins.
You can either return to the castle or, for a longer excursion, divert through Kenilworth Common Nature Reserve – look out for a flash of turquoise and orange as a kingfisher flits across Finham Brook.
Stretch to forest bathing
Stretch your legs and your day out: unwinding can't be rushed. Begin at delightful Baddesley Clinton (National Trust) near Warwick where the picturesque house is filled with tales of Tudor intrigues, and you can explore a walled garden, lakeside and woodland trail. After a sweet treat in the café, get away from it all in the adjacent Hay Wood: ideal for 'forest bathing' – the Japanese practice of 'shinrin yoku' or relaxing among trees and nature as a way to de-stress and boost wellbeing. Foxgloves, bluebells, birds, butterflies and Muntjac deer are among sights you might see.
Another stretch of your legs could take you to nearby Packwood House (National Trust), famed for its yew topiary – the legend around the yew trees might stretch your imagination too.
Inspire
Give those grey cells another workout on a tour of North Warwickshire, where the lovely countryside and its literary heroes will get your creative juices flowing. Perhaps evocative scenes like Astley Castle and Astley Church that inspired the great George Eliot will spark your own ideas, reflections and diary doodles, or even sow the seeds for a blockbuster novel – give free rein to your imagination! Then find all sorts of enriching reads at nearby Astley Book Farm & Coffee Shop, home to some 75,000 second-hand and antiquarian tomes plus a story-stuffed Children's Hayloft.
Channel more creative vibes on the Exploring Eliot Trail to places that coloured the author's childhood and later writing. The dedicated gallery at Nuneaton Museum and Gallery brings alive Eliot's artistic journey, while craft activities help to unlock the storyteller in everyone.
Reconnect
Reconnect with Nature and each other at Pooley Country Park, on the Coventry Canal at Polesworth. Once a colliery site, it is now a 62.5ha green and peaceful escape featuring woodland habitat and pretty pools originally caused by mining subsidence. Nature's healing powers have resulted in one third of the park being designated a Site of Special Scientific Interest. Soak up the rejuvenated scenes as you follow former miners' paths and the c. 6-mile (9.7km) walk around the park taking in the stunning 12-metre high Gold Leaf sculpture celebrating the park's regeneration.
Take a break at the tearoom then let the kids loose in the play area – rediscover your inner child and join in: play keeps you young and it's so refreshing for everyone to swap all that constant 'screen time' for shared 'green time' in the great outdoors!
Refocus
Step away from the noisy daily hubbub of life to re-set your senses – a change of scene brings welcome new perspectives. Teeming with birds ranging from grey herons to kingfishers and lapwings, Middleton Lakes RSPB Reserve in the heart of the River Tame Valley offers a perfect step-change to a more harmonious soundscape. Watch the colourful arrival of spring across the mosaic of wetlands, meadows and woodland, and listen to the soothing birdsong that fills the air.
You could also visit nearby Middleton Hall to find out about its famous 17th-century residents, Francis Willughby and his mentor and collaborator John Ray. Willughby's Ornithology deepened our understanding of birds by pioneering new standards in their classification.
Recharge
When your battery is running low, bring it back up to full charge with some pedal power. An easygoing ride with no hills along the Stratford Greenway suits cyclists of all ages and abilities: just 5.3 miles (8.5km) each way between Stratford-upon-Avon and the village of Long Marston. Settle into a therapeutic rhythm of whirring wheels – the traffic-free cycle/footpath follows the course of an old railway line, crosses the Avon and Stour rivers, and whisks you through quiet countryside. Look out for fruit and walnut trees, cowslips, knapweed, wild carrot and tansy. Around half way, if you pause, you might hear the song of skylarks that nest nearby.
Bobby's Café in a converted train carriage (just through the trees of The Greenway car park) will set you up with refreshments at the start of your ride. Or relax there at the end.
Energise
Gear up for a more challenging cycle ride and get the endorphins flowing! The 23.5-mile (37.8km) Lias Line linking Rugby and Royal Leamington Spa follows another old railway line, transformed into a route of adventure that swoops from countryside to woodland to wildlife wonders within minutes. Stop off at Wildlife Trust sites at Ashlawn Cutting and Cock Robin Wood, both havens for rare plants and butterflies, and picnic at Draycote Water – spot birds whilst you refuel. You can spin 5 miles around the reservoir, or simply continue on to the towpath of the Grand Union Canal, and to the charming village of Long Itchington.
Arriving in Leamington Spa, park your cycle and 'warm down' with a wander to admire the town's elegant Regency architecture.
Nourish
Make your visit to Warwickshire a fully rounded mind-and-body experience with a little indulgence that prolongs the afterglow – see these places to eat and stay.