Ten special memory-making places to stay with children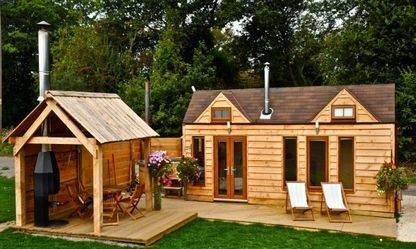 Stargazing from a chicken shed, boho glamping, snuggling down in a secret wooden cabin, or living like a medieval prince or princess:
More than simply getting some zeds (which of course you will), family stays in Warwickshire are about being immersed in adventures, reconnecting with Nature and discovering exciting activities.
Get starry eyed glamping in this idyllic 5-star retreat on a working farm. A handful of luxury holiday homes surrounded by Nature include Will's Tree House (sleeps 4) and Chicken Shed Lodge (sleeps 5) with geodesic dome, a telescope and binoculars for scanning the night sky. After cooking up a storm in the charcoal pizza oven, feed your curiosity gazing at the moon and the endless, twinkling heavens beyond.
Strut your regal stuff like a king, queen, prince or princess in the sumptuous Rose Suite at Warwick Castle. Sited in the 14th-century Caesar's Tower, the suite sleeps up to 4 (additional pull-out beds for children) and as well as tickets to explore the castle you get your very own private behind-the-scenes tour with an expert historian.
You can also bed down in a themed lodge (sleeps up to 7) in the Knight's Village tucked away in a woodland grove within the castle grounds. Evening entertainment to keep you in the medieval mood could include two knights duelling at dinner time.
Enjoy the best of all worlds, reconnecting with Nature while staying in a comfy pod; waking to the dawn chorus and farm animals (fresh eggs for breakfast!) in the middle of the countryside while being just 2 miles from pretty Henley-in-Arden with its ice-cream parlour and pubs, and 6 miles from historic Stratford-upon-Avon. Book activities like horse riding and wakeboarding, and make the most of your fresh-air adventures.
Buff Orpington, Mandarin... names of bedrooms at this AA 2 Rosette country pub and boutique B&B reflect different species of duck you might spot on Armscote village pond. A home-from-home (with extra pampering), it offers thoughtful touches like a children's dressing-up box and a Little Ducklings menu featuring kid-friendly portions (with pocket-friendly prices) including 'The Best Bit': yummy desserts like homemade ice-creams and chocolate brownie.
Always over-stuffing your car boot with kit for the kids? Relax! These 5 luxury 5-star Gold self-catering cottages (sleeping 2–10) in Knightcote near Stratford-upon-Avon come with baby equipment (high chairs to travel cots), toys, level ground outside that's great for ball games, a playground with adventure tower, safe walks around the 600-acre farm, and a carp pond for fish-feeding fun in spring and summer. You might browse the vintage tractors, too, and go along to the (free to enter) model boat club and model train club.
Do you have an interesting glamping rig, maybe an Airstream, Bongo campervan, tipi or bell tent? Then you'll find yourselves among likeminded spirits at Ettie's Field boho glamping ground near Atherstone. Hard standing and grass pitches are available, with and without electricity, and if you don't bring your own accommodation there's the chance to rent 'Melissa Belle' for a vintage Airstream holiday (easily sleeps 4). Children are welcome and there's a dog walking-cum-playing field, as well as a Family Room with shower/toilet facilities.
This neo-Gothic mansion with turrets and sumptuous country house comforts (AA 4 Red Star) at Alderminster, near Stratford-upon-Avon fires family imaginations with lots to talk about. It's said to be one of the most haunted hotels in the UK – discover intriguing tales of a ghostly man and his beloved dog, a woman in Victorian clothing, and a former gamekeeper called George. Be assured: you'll be surrounded by welcoming warmth, and there's an indulgent spa and 40 acres of parkland to explore. Spacious family rooms are each arranged over two floors.
Open fields, farm animals and a super-friendly sheep dog eager to play (for those who are willing) are among delights awaiting you at Hilltop Hideaways, off the Fosse Way near Leamington Spa. Hilltop Farm is a third generation family farm and a wonderful backdrop to glamping adventures, where you can cosy-up in a wooden cabin, bell tent or shepherd's hut, with camp beds and bunk beds for kids (double beds with feather down duvets also available!). Or bring your own tent if you prefer and pitch beneath the stars – it's all about freedom, fresh air and fun, with the farm shop and café just a stone's throw away.
Create magical memories at 4-star Coombe Abbey Hotel, Binley. Spacious family rooms include features like a Victorian roll-top bath and four-poster bed, and family packages are available for a range of family sizes (from 1 adult / 1 child, to 2 adults / 2 children). A child-friendly menu in the restaurant is just the start; little ones also love wearing their Coombe Crowns and tucking into a Coombe Choc Box. Self-catering in a cottage is also available and there are lots of activities across 500 acres of parkland, from walking trails and a children's play area to swings and ropes in the Climbing Forest.
Be snug as a bug in a Family Teeny House (sleeps 6), a 10ft by 12ft pod that's like a wooden tent with ingeniously fitted furniture – you access the sleeping loft from a table that doubles as a landing. How cosy and neat, and such a teeny footprint! Wiggle your toes in the wood-fired hot tub, cook something tasty on the bbq, and plan your adventures in the Warwickshire countryside from your base near the picturesque village of Long Itchington.
Check out some of the top family fun things you can do during your stay in Warwickshire.