Tuck into Warwickshire's delicious dozen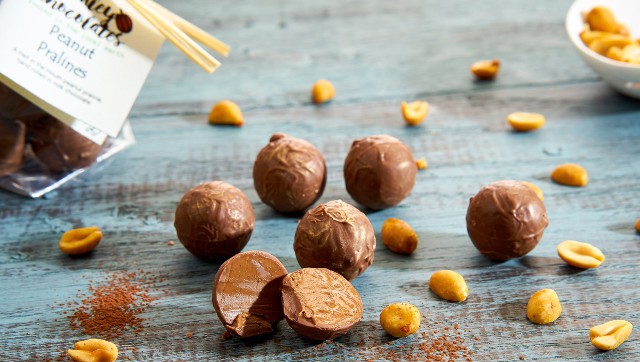 Artisan cheeses, buffalo steaks, eco-friendly beers, sumptuous truffles and even handcrafted chocolate dinosaurs – whet your appetite on our delicious dozen foodie favourites.
Shop online or pick up in person, treat yourself or find gourmet gifts for friends and family. And how about booking a wild food foraging day out in the fresh air?
From gnocchi know-how to the secrets of successful sushi, from tasty tiramisu to delicious doughnuts: Cookery School classes with experts at The Farm, Stratford-upon-Avon, offer a mix of fun and challenges. Also stock up in the farm shop and deli, with lusciously wholesome, sustainably produced treats from a collective of artisan foodies.
Unleash your inventive spirit with a Moores of Warwick Gin School Experience, blending your chosen botanicals to create your very own recipe gin. Spicy, floral, citrus? Name it, bottle it, share it – you can always order more because the distillery keeps a record of your personal recipe. Then for a gourmet gift to someone special send an Aromatic Gin Hamper made with wine from Buzzards Valley Vineyard. Or raise a glass to one of the Bard's favourite fruits with rich mulberry gin from the Shakespeare Distillery.
Are you the sweet, full-bodied sort or strong and smooth? You'll find both (and more) types of cider at Napton Cidery where apples are fermented naturally with wild yeast and slowly matured into liquid sunshine. Sample limited edition ciders before you buy, and hear how this family-run business grew: from a single tree in the garden and 'unwanted' village apples, into a heart-warming story of sustainable British farming. Pick up a bottle of Cider Vinegar too – made with the friendly-bacteria-filled 'mother'.
Nearby is Napton Water Buffalo Farm where the wide-eyed, curious buffalo roaming over 250 acres of open green fields have become a well-known sight to boaters on the Oxford Canal. The buffalo milk is made into lip-smacking ice-cream, and succulent steaks, joints and buffalo mince burgers can be bought at the local shop (or call ahead and collect produce from the farm).
If wild food and fresh air is your thing, The Foraging Course Company offers the perfect combo, with several courses running in Warwickshire in 2021 – vouchers make wonderful birthday presents for outdoorsy, food-loving friends too. Courses cover all aspects of foraging from how to find and identify wild edibles to harvesting, safety and recipe ideas. Choose from half-day foraging walks, private full-day courses with cooking, workshops and taster sessions that introduce you to new flavours. A welcome chance to reconnect with our natural world!
Aubrey Allen Butchers in Leamington Spa – "Britain's best butcher's shop and deli" –has been selling high-quality meat for over 80 years and it's nice to know the family's core values of integrity and excellent service are still going strong. Browse the tempting chef's butcher, delicatessen and artisan cheese shop, or dine at nearby Oscar's French Steakhouse and Bistro (owned by Aubrey Allen). Or if you want to sharpen up your culinary and carving skills, check dates for some great practical courses at the Butchery School.
Tuck into some street food – rib-tickling local specialities to world flavours – at Warwickshire's outdoor markets, from Warwick and Leamington Spa to Kenilworth and Stratford-upon-Avon (check websites for up-to-the-minute opening info). Yum-tum-tum temptations, whether gourmet toasties or vegan specialities, will keep your shopping energy levels primed. See a list of all the farmers' markets in Warwickshire.
Take a fascinating tour of Sheldon's Wine Cellars, a business established in 1842 after founder Richard Badger swapped selling medicated wine at his pharmacy for the more glamorous world of being a vintner. His nephew, the eponymous Edward Sheldon, took over in the 1850s and supplied wines across the country – reserving the vintage port, Madeira and sherry for Warwickshire's affluent country houses! Ask for the current wine list (it's changing all the time) and place your order, or send the gift of a guided tour to a friend.
Oh go on, indulge in mouthwatering chocolate heaven courtesy of Henley Chocolates. Their unusual, high-quality gifts are made with ethically sourced cocoa and sustainable, local ingredients, so your halo can keep on twinkling too. Browse the online shop for quirky birthday party goodies for the kids – maybe chocolate hedgehog lollipops or a herd of chocolate dinosaurs – while for grown-up 'sweethearts' there's a range of award-winning handcrafted truffles. Or how about a vegan-friendly stem ginger and lime chocolate bar, mmm...
Add a touch of Michelin magic to your next self-catering stay in Warwickshire with meals (Beef Wellington, Rum baba, spiced pineapple, coconut and lime) delivered to your door! Antona at Home brings you Michelin quality food prepped with simple instructions on how to complete and serve – they will also send suitable wine pairings. Andreas Antona, the award-winning chef behind The Cross at Kenilworth (which has just been awarded the 2021 Good Food Award for Gastro Pubs – Gold Seal) and Simpsons in Edgbaston, launched Antona at Home during the first lockdown to create the perfect night out, in. Enjoy!
For all you dippers and dunkers out there, Auntie's Sauces are a must. The authentic Indian dipping sauces, from chilli mango to tastebud-teasing tamarind, are produced in Nuneaton to the high standards of 'Auntie' – which is what everyone called Mrs Pannum when she and her family set up a chain of successful restaurants. Also pile on the pickle including lemon, ginger & chilli, and remember to check out recipe ideas while you're visiting the online shop.
Based on a working farm at Great Alne, award-winning Purity Brewing Company makes cask and keg beers using sustainable, eco-friendly methods – leaving an even better taste in your mouth. Find your favourite craft brews, from refreshing Pure Gold to tropical fruit-toned Longhorn IPA (named after the farm's cattle, whose diet includes the brewery's spent grain). And why not make every day Father's Day with a Beer Box or Mixed Case? Brewery tour vouchers and other gifts are also available.
Why not extend your foodie experiences? Find accommodation to suit all pockets and moods around Warwickshire.