Eat, drink and stay in royal style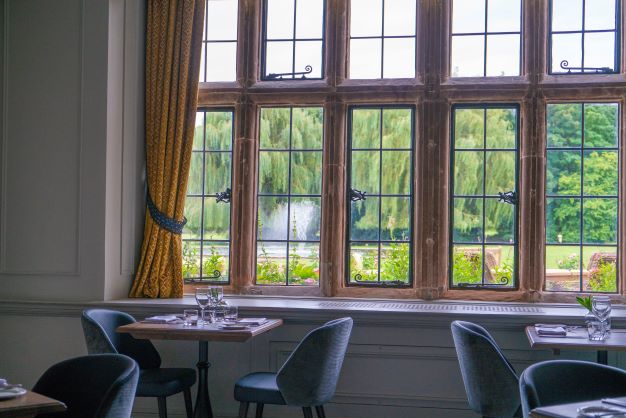 A castle linked to three queens, Tudor retreats, an inn where Charles II hid in disguise – come and eat, drink and stay in royal style.
Nailcote Hall, Berkswell
It's thought the land on which this small English stately home now stands was granted to the first owner in thanks for help given to William of Normandy during his Conquest of England in the 11th century. During the English Civil War the Hall was damaged by Cromwell's troops – remarkably, a bill subsequently sent to the Parliamentarians was paid! Today the elegant spa hotel offers you a relaxing haven.
Warwick Castle
Two lavishly decorated suites in the 14th-century Caesar's Tower at Warwick Castle provide an experience fit for a king or queen, with breakfast in a stateroom before a private tour of the castle. Or share a short break in the Knight's Village in the castle grounds, dining in the medieval banqueting hall-styled restaurant.
Ettington Park Hotel, Alderminster
The Shirley family who once owned Ettington produced numerous brave knights, most famously Sir Hugh who dressed in King Henry IV's armour to create confusion on the battlefield at Shrewsbury 1403. "Valiant Shirley" (as Shakespeare calls him, King Henry IV, Part I) was slain while the real King lived to celebrate a resounding victory. It's just one of the tales to fire your imagination during a luxurious stay in this welcoming neo-Gothic mansion.
Astley Castle, Nuneaton
Discover links to three queens of England at Astley Castle: Elizabeth Woodville, later wife of King Edward IV; Elizabeth of York, wife of King Henry VII; and Lady Jane Grey the Nine Days' Queen. This remarkable Landmark Trust self-catering property, with accommodation sensitively stitched into once-ruinous walls, sleeps 8 people (2 twin / 2 double).
Karma Salford Hall, Abbot's Salford
You can enjoy the best of both worlds, historic and contemporary, at Karma Salford Hall in the Vale of Evesham. Once owned by King Henry VIII, it blends Tudor charm and dining in an opulent panelled hall with Arts & Crafts-inspired bedrooms and modern spa therapies (Bluff King Hal would surely have approved).
Wroxall Abbey Hotel & Spa, Wroxall
The names of Henry's Restaurant and Henry's Lounge & Bar in this newly re-launched hotel give a clue to the fact that King Henry VIII got his hands on Wroxall Abbey Estate in 1544 at the Dissolution. He awarded it to one of his commissioners, Robert Burgoyne, and it later became Sir Christopher Wren's country retreat. Tuck into contemporary British and Mediterranean cuisine amid plush, antique settings, and explore acres of luscious green grounds.
Coombe Abbey Hotel, Binley
Surrendered to King Henry VIII at the Dissolution, Coombe Abbey has an eventful history, not least in 1605 when nine-year-old Princess Elizabeth, daughter of King James I, was lodging here and became the target of a foiled kidnap attempt by the Gunpowder Plotters. Enjoy characterful bedchambers, fine dining (including private medieval banquets) and more than 500 acres of parkland.
Billesley Manor Hotel & Spa, Alcester
Billesley Manor offers a sumptuous escape: dining in the Stuart Restaurant and sleeping in a Tudor-panelled Four-Poster Room. You would never guess that in the 16th century the original house was in disrepair and head of the family Thomas Trussell was sentenced to death for highway robbery. He managed to escape execution but his estate was forfeited to Queen Elizabeth I. The manor continued to be Crown property until it was sold to Robert Lee, a Lord Mayor of London knighted by King James I. Thankfully the Lee family rebuilt the house in style.
The Olde Minte, Southam
This traditional pub is just the place for a friendly pint when you are out exploring, and if its rugged walls could talk they would tell you a few tales. Because this was once where local trading tokens were minted, and where during the Civil War Charles I melted down silver to make coins to pay his soldiers. Follow the town trail and you will come across the old manor house where the King stayed in 1642 and it was at Southam that he addressed his troops before the Battle of Edgehill.
The Castle at Edgehill
Will you stay in the Prince Rupert Room or King's Room in the quirky octagonal tower? Built many years after the Battle of Edgehill, the castle tower reputedly stands on the site from which Charles I observed the Parliamentarian army deploying in the vale below and where he raised his standard. The views are superb.
The White Swan, Henley-in-Arden
King Charles II, disguised as a groom, is believed to have stayed here while he was on the run from the Roundheads after the Battle of Worcester 1651. Tuck into the inn's speciality Steaks on the Stone presented on hot lava stones, and maybe sleep in a Super-King Room.
Regent Hotel, Royal Leamington Spa
Originally opened in August 1819 as Williams Hotel, The Regent was renamed just three weeks later by permission of the Prince Regent (later King George IV). Illustrious royal guests have included Princess (later Queen) Victoria, Prince Louis Napoleon (later Napoleon III) and Empress Eugenie. Today a Travelodge, the hotel is well placed on The Parade for browsing the elegant heart of the town.
Right royal names
Do you know the stories behind popular pub names? The Rose & Crown emblem dates from the end of the Wars of the Roses, while astute Tudor innkeepers repainted Pope's Head signs with King's Head signs after King Henry VIII broke with the Church of Rome. Meanwhile The Red Lion harks back to a decree by King James I of England that public buildings (including taverns) should display a heraldic red lion to reinforce his authority. Royal Oak, of course, refers to Charles II's escapade hiding in an oak when he fled after the Battle of Worcester.
Raise a toast to popular royal pub names on your travels around Warwickshire, including at