Dog friendly Warwickshire
Best paw forward – great dog walks around rural Warwickshire
Fresh open countryside, spacious parks, breezy hills, leafy woodlands – you'll find lots of different trails to get tails wagging around Warwickshire. Whether you're a local looking to explore more widely, a day-tripper or short-breaker, share some of these walks with the dog in your life – with pooch-friendly pubs and eateries en route
Hatton Locks 'heaven'
Canal towpath, countryside and woodland: this 5-mile (8km) circular walk is full of changing scenery for you, and fascinating different scents for your four-legged friend to sniff out. Sounds like heaven? Aptly enough, you'll also be able to view The Stairway to Heaven, aka Hatton Locks flight of 21 locks on the Grand Union Canal.
Beginning from the parking area in Hatton, pick up the canal towpath before heading into the countryside and along country lanes to Hampton on the Hill. Then, skirting Whitehill Wood and passing Hatton Country World (family entertainment and shopping), return to the canal and follow the locks back to your start point. 'Paws' for hearty sandwiches or more at walk's end at the Hatton Arms – dogs welcome in the bar area and outside. Perched above The Stairway to Heaven, the 18th-century coaching inn offers superb views.
Aston Cantlow – Shakespeare unleashed!
Did you know that Shakespeare mentions 'dog' or 'dogs' more than 200 times in his plays, and that isn't even counting words like 'hound' or 'puppy'. Just a titbit to chew over on this c. 6-mile (9.7km) circular walk, which begins and ends at The King's Head pub in Aston Cantlow: Will's parents were married in the village church here in 1557 and reputedly held their wedding breakfast in the pub, hence the Shakespearian flavour to your outing.
So, your "dog will have his day" (Hamlet), trotting with you along fields towards the Rough Hills, swinging along to Newnham and following the Stratford-upon-Avon Canal to Wootton Wawen, before heading back along the River Alne to Aston Cantlow. Highlights en route include the Edstone Aqueduct, claimed as the longest cast-iron aqueduct in England at 475ft (145m). All well-behaved doggies are welcome in the bar dining rooms of The King's Head where, on occasion, there are as many hounds as humans in the front bar.
Coombe Abbey Park – as the mood takes you
With 500 acres of beautiful gardens, woodland, lakeside walks and 'Capability' Brown landscaping, Coombe Abbey Park near Coventry is ideal for days out for both family and furry friends – dogs on leads are welcome and are also allowed off-lead to exercise in signposted areas.
Come for an hour or several, as the mood takes you: following numerous walking trails, enjoying waterside scenes and a sense of gentle adventure amid the trees. There are also splendid views of Coombe Abbey, whose story entwines with the Gunpowder Plot. Pack a picnic to bring with you and share in the park, or pick up snacks at the dog-friendly café. Water bowls are also provided at the visitor centre.
Pooley Country Park – (re)bounding with Nature
Pooley Country Park, Polesworth, is a wonderful example of how Nature rebounds to heal the workings of industry, in this case the old Pooley Hall Colliery (later the North Warwickshire Colliery) that closed in the 1960s. Today's 62.5ha green and peaceful site on the Coventry Canal offers a refreshing escape into woodland and poolside habitats, with a third of the park designated a Site of Special Scientific Interest. Paths once used by miners are now used for recreation and the stunning 12-metre Gold Leaf landmark sculpture celebrates the park's regeneration.
Here's a c. 6-mile (9.7km) walk around the park that will have your dog bounding along with Nature. Beginning and ending at the family-friendly, dog-friendly The Samuel Barlow pub overlooking Alvecote Marina and the Coventry Canal, the route takes in a number of pretty pools (originally caused by mining subsidence), the ruins of medieval Alvecote Priory, and oodles of space in which to run around. If the weather is nice, make the most of The Samuel Barlow's large beer garden – with a suitably tired Fido snoozing at your feet.
Atherstone and Hartshill Hayes Country Park – canal, hills and bluebells
This outing with your top dog leads through countryside near the site of Queen Boudicca's last battle against the Romans and past remains of an Iron Age hill fort. But it's a peaceful jaunt, following a 6-mile (10km) circular route beginning and ending in the market town of Atherstone.
Step out from town along the Coventry Canal, passing an impressive flight of 11 locks and maybe a narrowboat negotiating a graceful bend in the waterway near Mancetter where echoes of Boudicca hang in the air. At Hartshill Hayes Country Park ancient hilly woodland sparkles with bluebells in spring and there are panoramic views from the hilltops. Bowling on past Oldbury Camp Iron Age hill fort, let the canal towpath lead you back to Atherstone. A warm welcome awaits dogs and owners in the newly refurbished King's Head, which has a large canalside beer garden.
Bosworth Battlefield Walk – drama and doggy ice-cream
While your canine companion enjoys the fresh air, fields and woods of this c. 4-mile (6.4km) Bosworth Battlefield Trail, just over the Warwickshire border, you might ponder the dramatic events that played out here in August 1485 when Henry Tudor won the Crown from King Richard III.
Setting off from Ambion Hill, the site of Richard's camp on the night before the battle (and where Bosworth Battlefield Heritage Centre is located), you pass a well marking the place where the king drank before his fatal final encounter. Then after winding through Ambion Wood and along a stretch of the Ashby Canal, you can find refreshment at Sutton Wharf Café Bar where well-mannered dogs are made welcome with the likes of doggy treats and doggy ice-cream. There's ice-cream for you too, or maybe a warming hot toddy. Energy levels restored, head back along more leafy trails through Ambion Wood and return to your start point.
Kenilworth Circular – castle grounds and town saunter
Put your best paw forward on this 2-mile (3km) circular wander around Kenilworth, strolling through the castle grounds and town. From the castle car park, follow footpaths around the romantic ruins and beautiful Elizabethan Gardens, then pick up the pace for a race into Abbey Fields Park before dawdling along the pretty Finham Brook. St Nicholas Church and the ruins of the ancient gatehouse of the medieval Abbey of St Mary are worth a browse before you saunter the pleasant footpaths back to the car park.
If you want to extend your walk, you can always keep going along the Finham Brook and explore waymarked trails through Kenilworth Common Nature Reserve – look out for kingfishers on the brook! Short or long walk: options for refreshments in town include the 16th-century Virgins & Castle on the High Street, serving delicious pub food including vegetarian and vegan choices. Dogs are very welcome in the snugs or in the heated beer garden throughout the day, with dog bowls and dog treats on offer.
Baddesley Clinton and Hay Wood – moated manor to wildlife safari
From the delightful grounds of a moated manor house to wildlife-rich woodlands, this 2-mile (3km) walk is a waggy-tale of two halves. Much of picturesque Baddesley Clinton (National Trust) that you see today was built in the late 1500s and is full of stories about priest-hunters and hiding-places. The grounds – dogs on leads are welcome in the car park and on public footpaths across the estate – include woodland trails, a lake and walled garden.
Your walk leads into the adjacent Hay Wood where you can get away from it all on trails through ancient woodland. Look out for foxgloves, bluebells, birds, butterflies, rabbits and Muntjac deer. Pooch-friendly pubs nearby include Tom O'The Wood at Rowington, which prides itself on serving fresh, homemade food, sourced from local suppliers and farms. If you're dining with your four-legged friend, choose the conservatory.
Burton Dassett Hills Country Park – run wild
Burton Dassett Hills Country Park is all about far, far-reaching views from rugged, rolling ironstone hills rising to 667ft (203m); about deep lungfuls of fresh air and doggy legs running as fast as they can. Explore 100 acres of freedom, sprinkled with historical curiosities like the hilltop beacon (which could once have been a windmill) and quarry remains. Information points across the site provide insights.
A c. 3-mile (5km) circular tour will give you a good, breezy taste of the park's wide, open spaces – enough to earn you a cool, tasty reward from the ice-cream van that visits in the summer.
Ryton Pools Country Park – easygoing adventure
Surfaced paths around Ryton Pools Country Park at Bubbenhall make for easygoing exploration – you've 100 acres stretching out around you, with tranquil pools and woodland providing habitat for a variety of birds and wildlife. There are also play areas and a pirate trail for the kids. Share a picnic or refreshments from the visitor centre.
Stretch your legs and get tails wagging on a c. 5-mile (8km) route that combines a walk through the park with nearby woods including Ryton Wood, one of the country's largest surviving semi-natural ancient woodlands (keep your dog on a lead here). Look out for primroses and bluebells in spring, scuffle leaves in autumn, breathe in the invigorating woody air all year through.
Please remember to follow the Countryside Code, keep your dog under control, and on a lead where required, and clean up after your dog (doggy bins provided in parks)
Find further information about Dog Friendly Warwickshire
Walks in Shakespeare Country by Lezli Rees (Laughing Dog Media Ltd) provides ideas for 24 walks from dog-friendly pubs near Stratford-upon-Avon
Looking for ways to pamper your pooch while visiting Warwickshire? Check out the canine treats the county has to offer.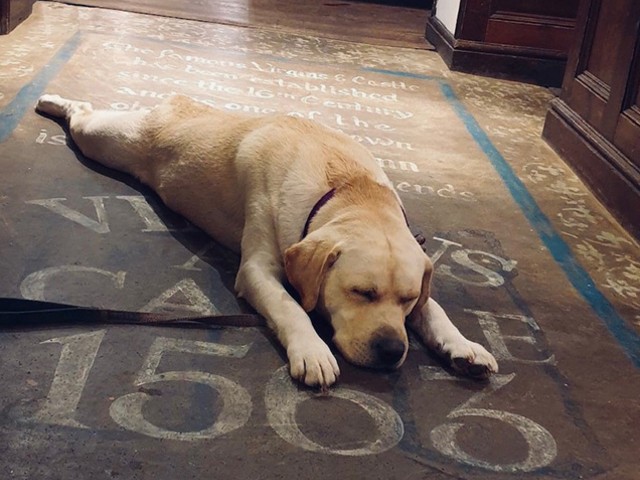 Virgins and Castle Pub, Kenilworth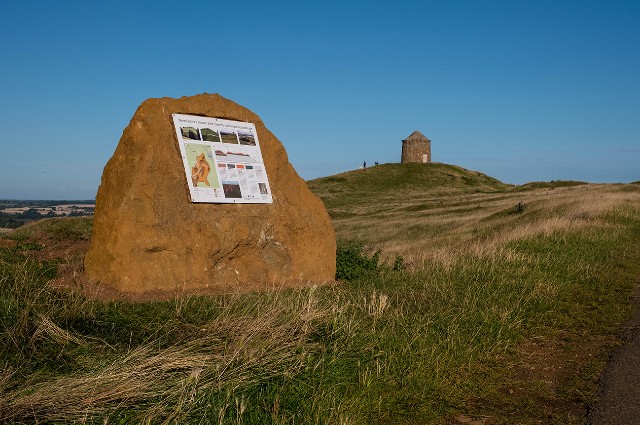 Burton Dassett Country Park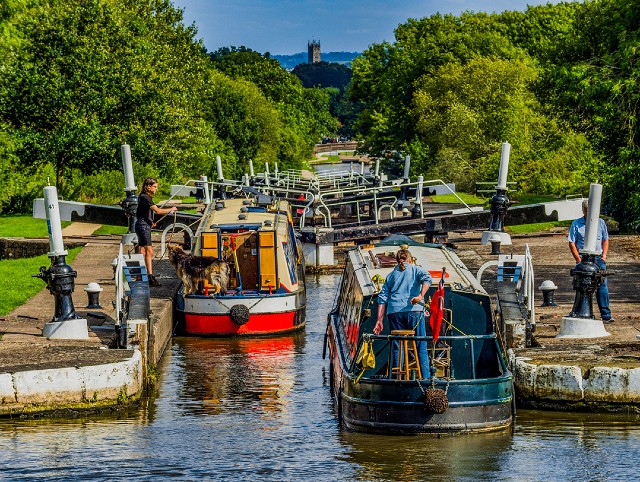 Hatton Locks
Copyright Kodachrome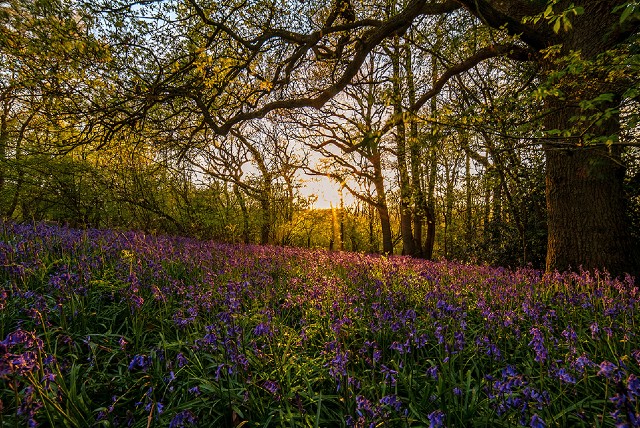 Bluebell Woods, Hartshill Hayes Country Park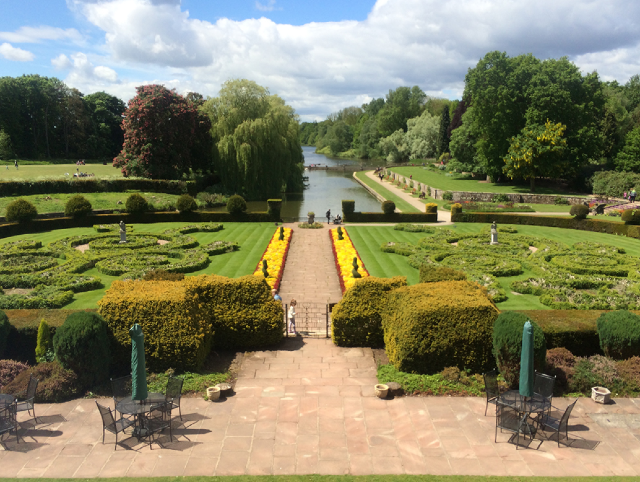 Coombe Abbey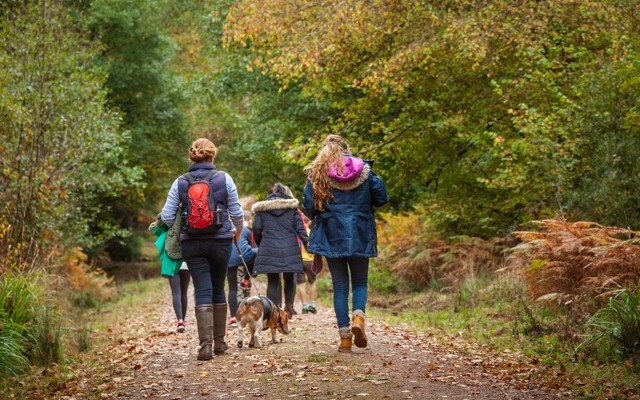 Hay Wood
Copyright Forestry England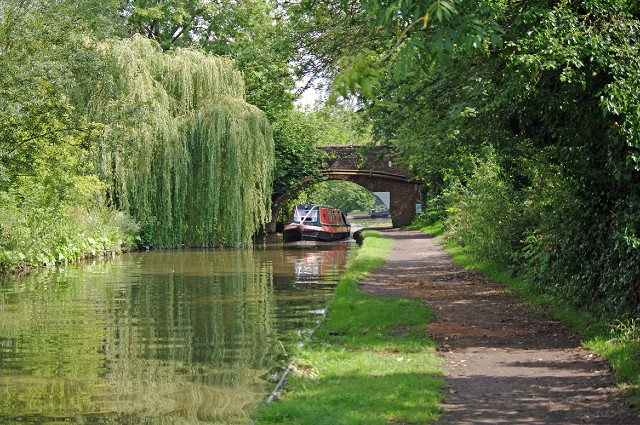 Stratford upon Avon Canal