Exploring Warwickshire's waterways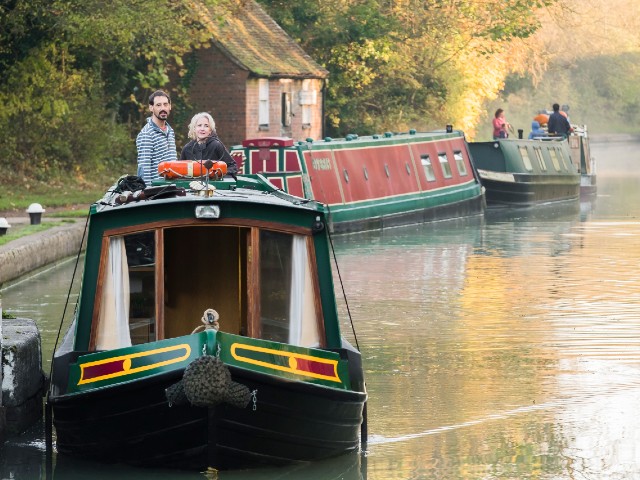 Warwickshire's countryside is threaded by a network of canals once plied by narrowboats laden with goods.
Now highways for leisure and havens for wildlife, the waterways offer great escapes. Here are some route ideas for people who love holidays afloat – or would like to try one.
Short break: Wootton Wawen to Stratford-upon-Avon and return
Fast facts: relaxed route, 14 miles (22.5km), 34 locks, 11 hours total
Your route begins in Wootton Wawen, renowned for its Saxon church, and wends south to Stratford-upon-Avon, birthplace of William Shakespeare. It took more than 20 years from the 1790s to construct the Stratford-upon-Avon Canal, and the waterway was largely used to transport coal, but today's leisure-boaters love it for its picturesque scenery. At 14 miles (22.5km) this southern stretch is ideal for a two–three day excursion depending on how often you stop to explore.
Departing the marina you shortly encounter a couple of aqueducts, including England's longest cast-iron example, Edstone Aqueduct (200 yards/183 metres). Then enjoy the secluded waters that lead on towards the village of Wilmcote where the childhood home of Shakespeare's mother, Mary Arden, may be found along with a couple of pubs. Moor just north of bridge 59 if you want to stretch your legs and visit.
Back aboard, get ready to tackle the Wilmcote Flight of locks and then more locks as you cruise on to Bancroft Basin in the heart of Stratford where the canal joins the River Avon. Theatre, Shakespeare's Family Homes and other attractions are just a walk away, before you return to Wootton Wawen.
One week: Rugby Marina to Drayton Manor and return
Fast facts: intermediate route, 68 miles (109.5km), 28 locks, 33 hours total
At 68 miles (109.5km) this route comfortably fills a week with changing scenes of countryside, town and village, as well as plenty of time to visit family favourite Drayton Manor Theme Park. As your journey arcs north and then south, you get a taste of three different interconnecting canals, the Oxford, Coventry and Birmingham & Fazeley, plus enough locks for those who enjoy being active.
Cruising north from Rugby on the Oxford Canal includes the memorable experience of travelling through the 270-yard (247-metre) Newbold Tunnel, before passing the village of Ansty (with waterside pub). At Hawkesbury Junction you turn onto the Coventry Canal, once busy with coal boats carrying cargoes from coalfields in Bedworth and Nuneaton – George Eliot Country. Today the waterway teems with wildlife, and hilly, wooded scenery accompanies you from Hartshill (handy for pubs and shops) to Atherstone where you've a flight of 11 locks to negotiate.
Continuing north, the village of Polesworth is noted for its historic abbey and you can also glimpse the ruins of a Benedictine priory at nearby Alvecote as you make your way to Tamworth, home to an impressive Norman motte-and-bailey castle. After turning onto the Birmingham & Fazeley Canal at Fazeley Junction, cruise over a small aqueduct towards Coleshill Road Bridge: a good place to moor while you head off to Drayton Manor Theme Park for lots of family fun. Then turn around and return along the canal to Rugby.
Fortnight: The Warwickshire Ring, start/finish at Warwick
Fast facts: relaxed route, 105 miles (169km), 121 locks, 58 hours total
If you are feeling energetic you could navigate The Warwickshire Ring in a week, but why hurry? Escaping into the slow lane of a narrowboat holiday is all about winding down, after all, and allowing a fortnight for this 105-mile (169km) route means you can make the most of visiting attractions along the way, with some long, lazy lunches in between! Enjoying stretches of six different canals, you also appreciate just how much trade once criss-crossed central England on the waterways; now they take you through a kaleidoscope of scenes, woodlands, countryside, cityscapes, industrial heritage and historical sites.
The Warwickshire Ring begins (and ends) at Warwick, where you cruise along the Grand Union Canal and have the remarkable experience of the 21-lock Hatton Flight on your outward journey. Fondly called The Stairway to Heaven, it elevates the canal an impressive 146 feet (45 metres) up the steep Avon Valley – you'll find a welcoming pub at the top.
Further canal engineering feats that you encounter around The Ring include lengthy tunnels at Shrewley, Brandwood and Newbold, and flights of locks at Lapworth, Atherstone and Stockton. Also look out for the aptly named 'Guillotine Lock' on the Stratford-upon-Avon Canal just before King's Norton Junction, and be ready for the sharp turn at Hawkesbury Junction connecting the Coventry and Oxford canals – cut as a solution to a disagreement between the two rival companies, which used to run parallel to each other here (traces of the old Oxford route are still visible).
Around The Ring you will find plenty of pubs either waterside or within walking distance of moorings, as well as local shops for picnic stocks, and both Gas Street Basin in Birmingham and rural Braunston are lively narrowboat scenes. Drayton Manor Theme Park, Tamworth and historic Warwick are all within reach, or explore the market town of Atherstone and follow the village trail around Long Itchington. In between, let the soothing effects of water and wildlife work their wonders on heart and soul as you take your time gliding along the canals.
Want to hire a narrowboat? Companies in Warwickshire include:
General waterways information
Canal & River Trust – making life better by water. The Trust has a useful interactive canal and river network map.
Discover more Warwickshire Waterway Wonders from towpath cycling and walking to watersports and celebrations.