Teen discovery and family adventure
Family adventure and discovery days out
Swoop through treetops or go behind theatre scenes. Crack inventions and let off STEAM (science, technology, engineering, art, maths) with lots of hands-on fun. All-action adventure or creative time with the family: dip into these 7 ideas for great days out in Warwickshire, or build them into your very own short break. Enjoy scrumptious food too!
NB: please check opening times with individual attractions before setting out.
Around Rugby – be a sport
Morning
Check out the latest exhibitions and activities at Rugby Art Gallery and Museum (free admission). Contemporary and modern art, local crafts - there is always something fresh to fire imaginations. Also explore the town's fascinating heritage story, from Roman times to the present day.
Lunch
You've lots of choices for eating in town, including Libertine Burger: get your gnashers into signature dry aged beef burgers, buttermilk fried chicken burgers, vegan burgers and tasty house fries. Or slip a treat at Maia Gelato, creators of authentic Italian gelato ranging from vegan mango to chocolate.
Meanwhile the cafe at Art at the Alex offers vegetarian soups, homemade cakes and the like, alongside changing displays by local artists. View the website for opening times and art-centric happenings!
Afternoon
If you're here on a Saturday join an afternoon guided tour of Rugby School and its museum (available most Saturdays). The school is crammed with fascinating history, not least about the origins of the modern game of rugby, invented here in 1823 when William Webb Ellis decided to pick up the ball and run with it during a match.
Alternatively, bag some fresh-air activities at Draycote Water, just 4 miles from Rugby. Pre-book a sailing or windsurfing lesson, or bring your bike for a 5-mile scenic circuit of the reservoir. You can walk the route, too, diving off into woodlands here and there.
Coombe Abbey to Lunt Roman Fort – adventure and heritage
Morning
Get the adrenaline pumping at Go Ape at Coombe Abbey, Binley, swooping through the treetops and Alpine tree zip-to-zip. Set in 500 acres of parkland, the high ropes adventure is full of breathtaking, nerve-testing, heart-racing challenges. Who dares to try The Plummet 12-metre vertical drop? Down on the ground there's also a designated Axe Throwing activity area – see how accurate and strong you are!
Lunch
Bring your favourite goodies and tuck in together in one of Coombe Abbey's picnic areas. Or head to The Avenue at Coombe to rustle up something special from the Abbey Artisan Market ('mud pie', anyone?) feast on jacket potatoes and snacks from the cafe, or yumtastic waffles, crepes and ice cream from the 1950s inspired Sundae Club.
Afternoon
Continue browsing The Avenue at Coombe: a tempting gateway to gifts ranging from chocs to flowers. And don't forget a bag of 'healthy option' feed from the Information Centre to take to the ducks and swans at the main lake or Top Pool – they deserve a treat too!
Another option is to visit The Lunt Roman Fort, Baginton, a partially reconstructed timber fort close to the junction of two major Roman roads, the Fosse Way and Watling Street. The Lunt site was occupied from around the time of the warrior Queen Boudicca's rebellion in AD60–AD61 and it boasts a 'gyrus' or circular cavalry training area unique in Britain. Find out about Roman ditch defences with 'ankle-breaker' slots, and about the lives of the soldiers who lived in the barracks.
Exploring Coventry – UK City of Culture 2021
Morning
Discover the motoring magic of Coventry Transport Museum, from gleaming royal cars and military vehicles to the celebrated 'Transworld Trumpet' of epic round-the-world fame. The sleek lines of British-designed ThrustSSC, the supersonic car that holds the 763mph World Land Speed Record, send a tingle down the spine – experience for yourself the sheer thrill of driving the fastest car on earth across America's Black Rock Desert in the 4D Simulator.
Lunch
Pop into Playwrights Café on the Canal Basin – who's for a warm baguette 'steakwich', vegan burger or potato skins loaded with cheese and red onion? Leave room for fluffy pancakes topped with syrup or banana slices and chocolate sauce.
Afternoon
Wander around the old Coventry Cathedral ruins, reduced to rubble by WW2 bombing, and learn how the new Cathedral rose from the ashes so that modern and medieval now sit side by side in a spirit of reconciliation. After admiring awe-inspiring features like John Piper's stained glass windows, take a deep breath, and tackle the 180 steps of the Cathedral Tower Climb – the views across Coventry from the top are fantastic.
Back on terra firma, there's a range of brilliant new guided and self-guided walks you can do to explore more of the city: 2-tone music or Coventry on screen; in the footsteps of artists, rebels and activists; on the trail of inventions; a hidden treasures hunt; to name a few! Also check upcoming events when you plan your visit as events to celebrate Coventry UK City of Culture 2021 run until May 2022.
Any time left? Herbert Art Gallery & Museum (free admission) is packed with diverse collections, from natural history to historical toys and games.
Any energy left? Max out on thrills at The Wave indoor waterpark with a terrifying plunge in The Torrent and a sweep through The Cascade. Wind down in the Lazy River – you deserve it.
Around Royal Leamington Spa – paddleboards to puppies
Morning
Get in the zone with a Family Kayak or Stand Up Paddleboard Experience in the heart of Royal Leamington Spa. Your coach from Leam Boat Centre, based at Jephson Gardens, will give you a fun introduction to either watersport, or help you to up-skill if you're already handy (or footy) with paddles and boards.
Lunch
After you've dried off, share an early lunch at The Royal Pug, a welcoming neighbourhood pub and kitchen on Regent Street. Small and not-so-small plates range from spicy sweetcorn fritters to award-winning pies, stone-baked pizzas and Pug burgers with their secret burger sauce.
Afternoon
Take a tour of the National Breeding Centre for Guide Dogs, Bishop's Tachbrook: a genuinely heart-warming and absorbing visit. Hear about criteria for breeding and see puppies getting used to the everyday sights and sounds they will encounter in their careers as guide dogs. There's also a chance of meeting some dogs (they sometimes accompany tour guides), while in the Sensory Tunnel you'll experience what it's like to live with sight loss or visual impairment: it really brings home the valuable work of guide dogs.
Later in the afternoon, see who's got the knack for Disc Golf at Quarry Park Disc Golf Course, on the edge of Royal Leamington Spa. Similar in concept to traditional ball golf, the game involves trying to get a Frisbee into a basket in as few shots as possible – time to brush-up your arm action.
Alternative options for your day include: Fishing at Kingsbury Water Park.
Gaydon to Burton Dassett Hills – famous cars to kiteflying
Morning
Rev up with a visit to the British Motor Museum at Gaydon, the world's largest collection of historic British cars: celebrating the past, present and future of motoring, designers, makers and drivers. Follow the Time Road to discover what's changed over the years, investigate design processes via touch screen, and try steering simulators in Under the Skin. Some of Jaguar's finest sports and racing cars are displayed, as well as stars of TV and film like gorgeously pink FAB 1 from Thunderbirds and the Land Rover Defender from James Bond movie Skyfall.
Incidentally, Aston Martin – long associated with James Bond – built limited editions of two new 007-themed models at the 'Q' division of its hq, also in Gaydon, to mark the release of the latest Bond movie No Time to Die.
Lunch
Make a pitstop at Gilks' Garage Café, on the outskirts of Kineton, which is themed on the family's engineering and motor trade background dating back to the 1900s. How about the Mighty Mechanic's Beefburger? Also refuel your car – there's an electric car charging point on site.
Afternoon
Stretch your legs with a hearty hike at Burton Dassett Hills Country Park, racing to the rugged hilltops for (literally) breathtaking views. It's also an exhilarating place to fly a kite, and there's an ice-cream van during weekends and school holidays.
Staying longer – Enjoy a narrow boat holiday cruising the Warwickshire Ring, setting off from Napton Marina for a week. It's a varied and energetic route gliding through the heart of rural Warwickshire, with 118 locks to negotiate (good for family teamwork!) and sights like Warwick Castle en route.
Stratford-upon-Avon – get creative
Morning
Get those little grey cells whirring at MAD Museum in the centre of Stratford. The UK's only permanent venue for mechanical art is packed with gizmos and beautifully crafted automata from around the world. Promoting STEM subjects (science, technology, engineering, maths) plus art and design, MAD is totally absorbing, interactive, eccentric and entertaining: from marble machines and flying mechanical birds to sand pictures and 3D faces. Press the buttons and unleash your inner inventor.
Later in the morning, hire an electric launch for a short outing on the River Avon heading upstream from Stratford – full operating instructions given plus a map of the river.
Lunch
If you're a cat lover then Shakespaw Cat Café is the purrfect place for you: a vintage tearoom that is also a hotel for rescue kitties. Relax with feline friends like Hamlet and Horatio, all-white Himalayan Persians. Pancakes, sandwiches and tasty drinks including lavender hot chocolate are on the menu.
Afternoon
Check the calendar for exhibitions and tours behind the scenes at the Royal Shakespeare Company Theatre: hear about the history of the RSC, learn about the theatre-making process and explore a production in more depth. It could be useful for schoolwork, and it's intriguing for budding actors – and fascinating fun for all.
Afternoon / Evening
Enjoy a pre-theatre meal in the Rooftop Restaurant of the Royal Shakespeare Theatre with glorious views over the river, then take in a memorable performance at this world-famous venue.
Around Hatton – 'heavenly' locks to escape rooms
Morning
Begin today with a lovely towpath ramble along the Grand Union Canal to view the feat of engineering known as The Stairway to Heaven: Hatton's famous flight of 21 locks. Boats laden with coal, sugar, tea and spices once plied the waterways, now replaced by leisure craft – watch colourful narrowboats negotiating the locks.
Lunch
Perched above The Stairway to Heaven, the Hatton Arms pub serves tasty tummy-fillers like smashed avocado sandwiches, soups and handmade pie of the day. Also at the top of the locks, Hatton Locks Café offers delicious sandwiches, sausage rolls and homemade cakes, while you watch the world go by.
Afternoon
Take a walk across fields from the Hatton Arms to Hatton Country World where you'll find numerous family attractions (3.5miles/5.5km there and back again). Work together as a team and pit your wits in the Hatton Escape Rooms: can you get away with the pirates' treasure in Mutiny, or get the evidence to nail the Outfit controlling Chicago's streets in the years of the Prohibition? The clock is ticking…
Reward yourself with a cornet of scrumptious, locally made ice-cream from the Spinning Jenny restaurant, bar & tea room, before you walk back across the fields.
Check out our Places to Stay guide for accommodation ideas when visiting Warwickshire with your family.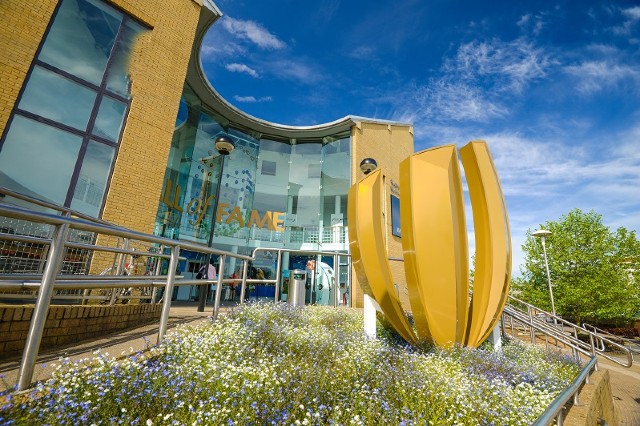 Rugby Art Gallery and Museum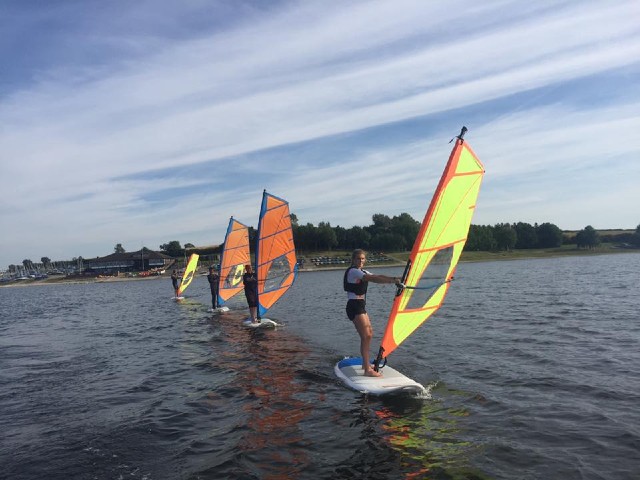 Windsurfing at Draycote Water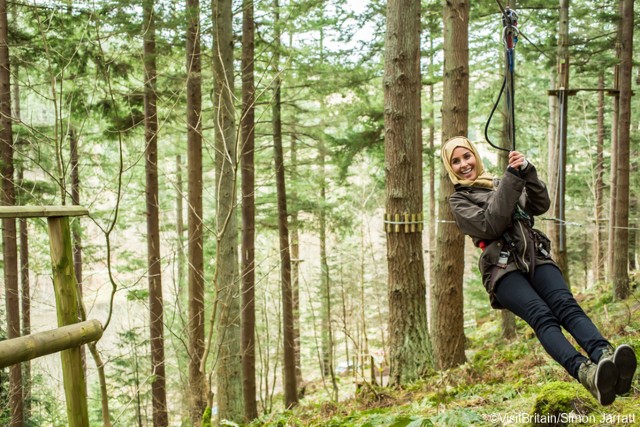 Go Ape
Copyright VisitBritain Simon Jarratt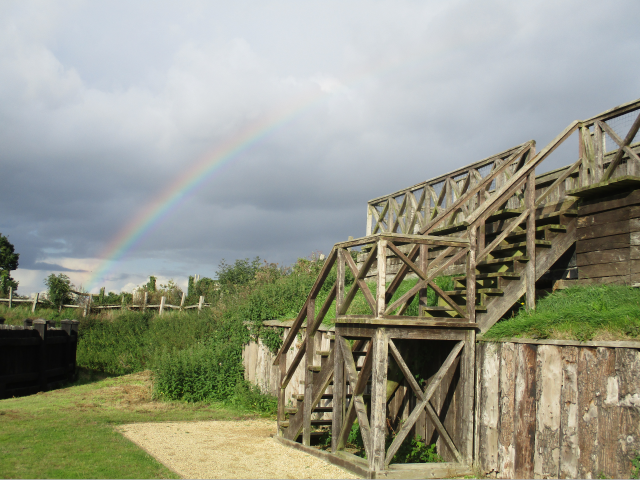 Lunt Roman Fort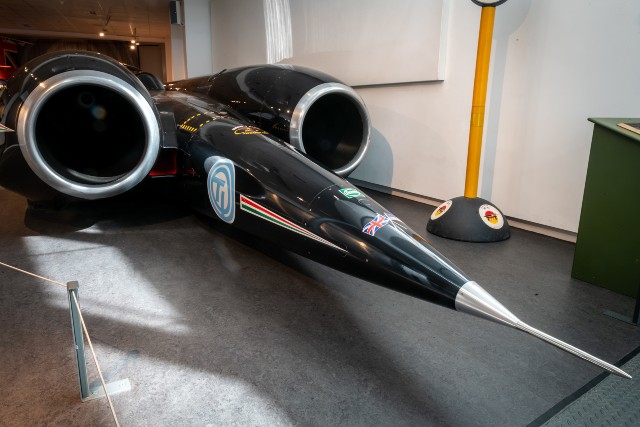 Coventry Transport Museum
Copyright Garry Jones Photography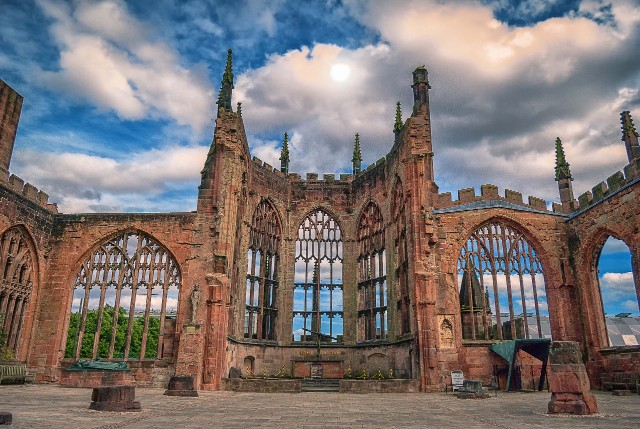 Coventry Cathedral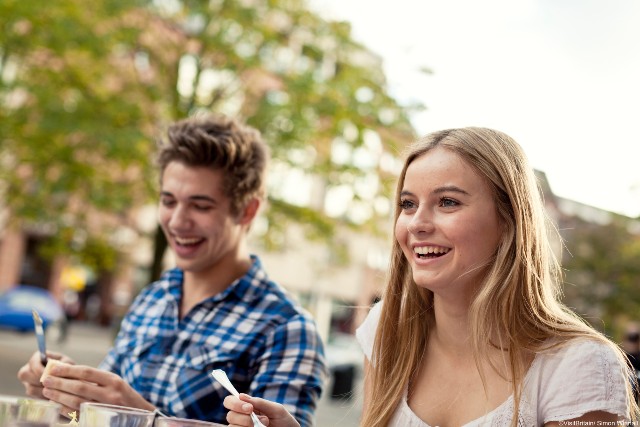 Outdoor cafe
Copyright VisitBritain Simon Winnall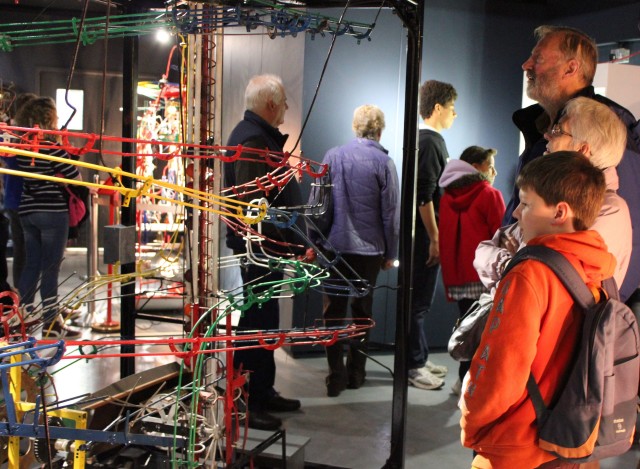 The MAD museum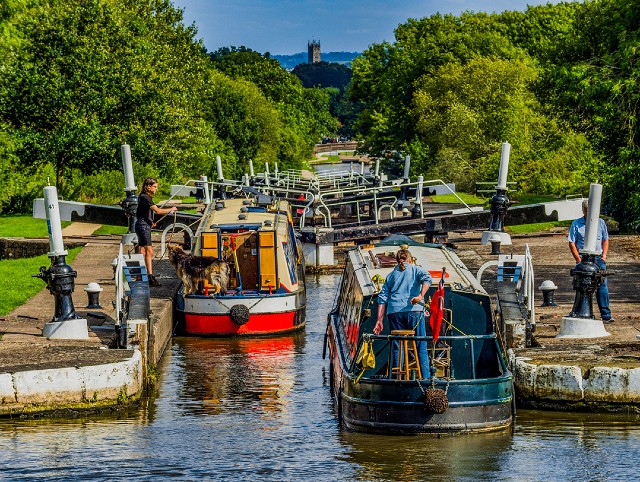 Hatton Locks
Copyright Kodachrome